Second year students transition from the classroom to the clinic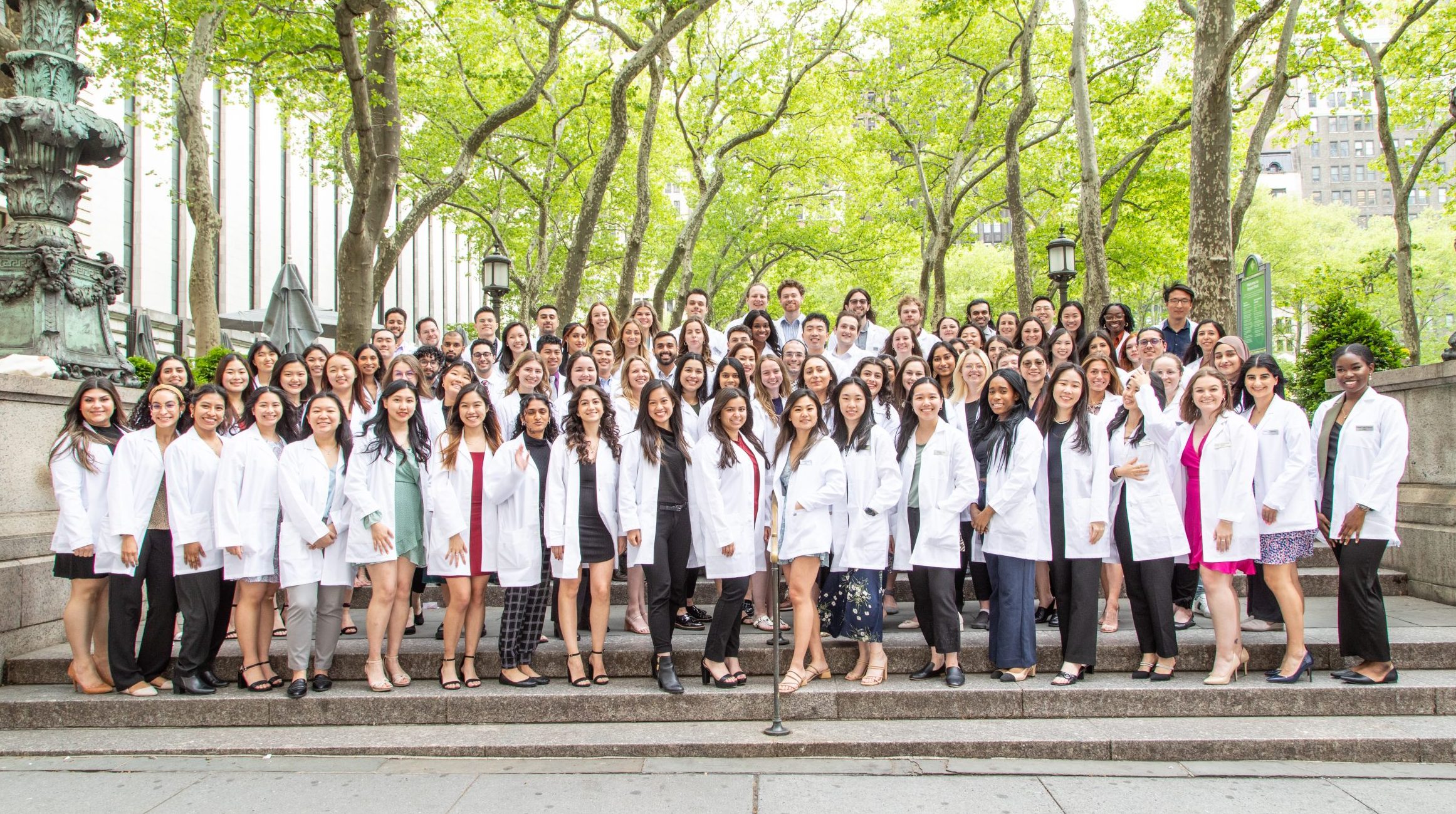 New York, NY— 96 members of the State University of New York (SUNY) College of Optometry Class of 2025 came together to celebrate a major milestone on the way to becoming eye doctors during a White Coat Ceremony hosted on campus and broadcast virtually on Friday, May 19, 2023.
Signifying a traditional rite of passage, the White Coat Ceremony symbolizes the transition of second-year optometric students from classes and coursework to patient care in the clinic for the next two years of their training.
Dr. Michael McGovern, '97, chief medical officer of the University Eye Center hosted the event, giving his opening remarks and providing a history of the importance and symbolism represented by the white medical coat. Dr. McGovern introduced SUNY Optometry President, Dr. David A. Heath, who noted the significance of the celebration. "Donning the white coat is not simply an affirmation of your preparedness to become a vital member of the health care team; it is a proactive decision to accept the responsibility of caring for our patients," Dr. Heath stated. "As the member of a health care team, it is no longer really about you, it is about the patient. And while learning is important, the patient's care comes first."
Other ceremony speakers included: Dr. Suresh Viswanathan, chair, department of biological and vision sciences; Dr. Tracy Nguyen, interim chair, department of clinical education; Dr. Richard
Soden,'79, president, Optometic Center of New York Board of Trustees; Dr. David Troilo, vice president and dean for academic affairs; and Liduvina Martinez-Gonzalez, FACHE, executive director and vice president for clinical administration.
Will Doan Nguyen, president of the Class of 2025, greeted his fellow classmates and honored guests by greeting them in 12 different languages, reflective of the diversity of his class as well as the diversity of the communities they will be serving. "As I look into the crowd today, I see the beauty of people from all walks of life, nationalities and cultures. And despite all our differences, we are here about to put on the same white coat, sharing the same stage," said Nguyen, "Today, we are no longer primarily just students, but student doctors."
During the ceremony, members of the Class of 2025 were individually draped in their white coats by University Eye Center clinic area chiefs, including Dr. David Troilo, Dr. Robert Chen, Dr. Mariana Butera, Dr. Shelby Leach, Dr. Daniella Rutner and Dr. Diane Calderon-Villanueva. Led by Maya Mekawy, SUNY AOSA Trustee and Allison Wu, NYSOA Student Chapter President, the coating ceremony was followed by reciting "The Optometric Oath"—a statement recognizing and affirming the values and ethical responsibilities to patients, colleagues, fellow health providers and the public the students will serve.
"This past year, you have demonstrated strength, courage, determination and resilience," said Dr. Teresa Lowe, chosen by students as the 2023 Distinguished Faculty Member. "Don your white coat as a Jedi Robe of compassion, of professional, of truthfulness, and honesty, both with your patients and with yourself."
The SUNY Optometry Alumni Association generously provided the white coats noting their support of the students through their journey to become optometrists.
FOR IMMEDIATE RELEASE: May 24, 2023
###
About SUNY Optometry
Founded in 1971 and located in New York City, the State University of New York College of Optometry is a leader in education, research, and patient care, offering the Doctor of Optometry degree as well as MS and Ph.D. degrees in vision science. The College conducts a robust program of basic, translational and clinical research and has 65 affiliated clinical training sites. SUNY Optometry is regionally accredited by the Commission on Higher Education of the Middle States Association of Colleges and Secondary Schools; its four-year professional degree program and residency programs are accredited by the Accreditation Council on Optometric Education of the American Optometric Association. All classrooms, research facilities, and the University Eye Center, which is one of the largest optometric outpatient facilities in the nation, are located on 42nd Street between Fifth and Sixth Avenues in midtown Manhattan. To learn more about SUNY Optometry, visit www.sunyopt.edu.
Contact: Rob Rosiello, communications@sunyopt.edu