Class of '20 alumna takes top honor in the Member in Training Outstanding Poster Competition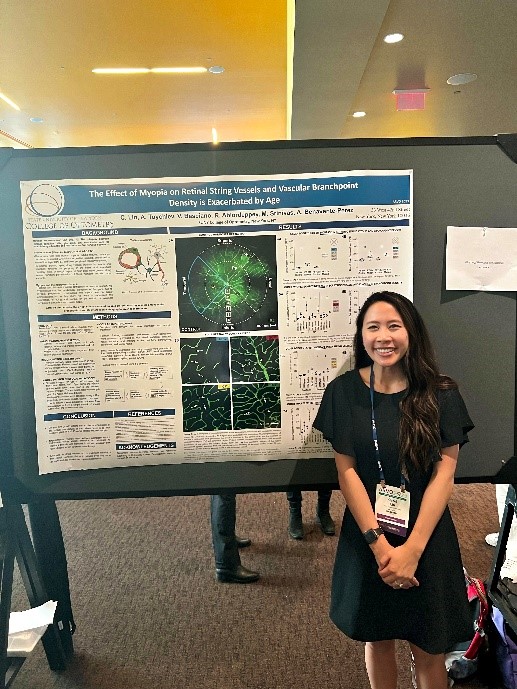 New York, NY – The State University of New York (SUNY) College of Optometry proudly announces that Dr. Carol Lin, '20, has won the Member in Training Outstanding Poster Competition (Anatomy/Pathology scientific section) at the annual ARVO meeting ending today in New Orleans. The ARVO Annual Meeting is the premiere gathering for eye and vision scientists at all career stages, students, and those in affiliated fields to share the latest research findings and collaborate on innovative solutions.
"The Effect of Myopia on Retinal String Vessel and Vascular Branchpoint Density is Exacerbated by Age" is Dr. Lin's award-winning poster topic. "Myopia alters all four layers of the retinal vasculature at the cellular level," she explained, "which has never been shown before. We noted increase in string vessels (previously viable, currently non-functional vessels) and changes to vascular branch point density in myopes, with these effects being exacerbated by age. These changes may serve as early biomarkers of neurovascular dysfunction in myopic eyes."
Originally from Saratoga, California, Dr. Lin thanks her PI and mentor, Dr. Alexandra Benavente-Perez; Dr. Reynolds Ablordeppey, PhD candidate and fellow student; Dr. Abduqodir Toychiev, past post doc in Dr. Srinivas's lab; and Dr. Miduturu Srinivas for his guidance. This marks the second time the SUNY Optometry lab has won this honor. It was first awarded in 2019 to Dr. Ablordeppey.
Dr. Lin is an alumna of SUNY Optometry class of 2020 OD/MS and completed her primary care residency at SUNY Optometry in 2022. She is currently a Clinical Instructor and PhD candidate.
FOR IMMEDIATE RELEASE: April 27, 2023
###
About SUNY Optometry
Founded in 1971 and located in New York City, the State University of New York College of Optometry is a leader in education, research, and patient care, offering the Doctor of Optometry degree as well as MS and Ph.D. degrees in vision science. The College conducts a robust program of basic, translational and clinical research and has 65 affiliated clinical training sites. SUNY Optometry is regionally accredited by the Commission on Higher Education of the Middle States Association of Colleges and Secondary Schools; its four-year professional degree program and residency programs are accredited by the Accreditation Council on Optometric Education of the American Optometric Association. All classrooms, research facilities, and the University Eye Center, which is one of the largest optometric outpatient facilities in the nation, are located on 42nd Street between Fifth and Sixth Avenues in midtown Manhattan. To learn more about SUNY Optometry, visit www.sunyopt.edu.
Contact:  Rob Rosiello, communications@sunyopt.edu