For Immediate Release: May 4, 2020
Organization Contact: Adrienne Stoller, communications@sunyopt.edu, 212-938-5600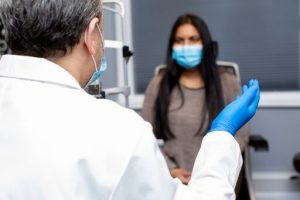 New York, NY—Springtime is typically the final stretch for students of all levels at the SUNY College of Optometry as they complete classes, exams, rotations, and prepare to become practicing doctors. But this year, unlike any other, the journey to professional life for these students and thousands across the country has taken an unexpected turn with the invasion of COVID-19.
"Employment options post-graduation is a hot topic among our class," said fourth-year student Cledis Ramirez. "Certainly, those of us not doing a residency are more worried. We know that small business owners are being hit the hardest, so potential employment options are now on standby."
To help ease the uncertainty, the SUNY College of Optometry hosted a webinar for over 50 current students and residents featuring a virtual panel of optometrists who shared insight about changes in the vision care industry and how they are adapting their practice amid the health crisis. 
"Our goal is to provide an understanding of optometric practice outside of the College in dealing with the coronavirus crisis," said Quy Nguyen, OD, director of the Career Development Center at SUNY College of Optometry. "It is important to address our students' concerns about what to expect in the short- and long-term as they enter their careers and prepare them to navigate shifts in traditional practice models as a result of the pandemic."
Comprised of optometrists practicing in four states (NJ, NY, CT, and OH), the diverse group of experts talked about national and individual state optometric association guidelines in response to COVID-19 and implications to the current treatment of patients. They also discussed the need to revise practice protocols as a result of the health emergency, including a shift to telehealth for routine and urgent care where appropriate and by creating "practice zones" within individual facilities to allow safe distancing for both providers and patients.
"Optometrists are creating new policies for their practices to ensure the safety of their patients and staff in the COVID-19 operating environment," explained expert panelist, Trinae Rosato, OD, who serves on the board for the New Jersey State Optometric Society. "Establishing protocols such as room social distancing, taking temperatures, and cleaning and disinfecting processes have become critical at every practice. With these procedures in place patients can feel at ease and the staff can focus on the health and care of ourpatients."
Panelists also pointed emerging trends such as the shift from optical to medical eye care, a movement that encourages integration with ophthalmology to treat patients with chronic problems that may require surgery and also clinically integrate with physicians to manage systemic issues such as diabetes and hypertension. It is a change in the private practice landscape that will open the door for optometry to become the frontline of eye care in the country. Given the trend, optometric residency is recommended for post-graduates as an invaluable layer of learning that serves to enhance clinical skills, peer connections, and career opportunities. Newly minted ODs entering the job market, especially during this crisis time, may also consider practice on a part-time basis or pursue a position outside of the region.
For those in training and on the cusp of graduating, like Ms. Ramirez, the professional forum provided invaluable direction, support, and a timely boost as the practice of optometry adjusts and rises to the challenge of a new normal.
"Having the panel of doctors discuss how to prepare for interviews and shining some hope on the job market was much needed!"
For more information about the SUNY College of Optometry and the University Eye Center, please visit www.sunyopt.edu.
About SUNY College of Optometry

Founded in 1971 and located in New York City, the State University of New York College of Optometry is a leader in education, research, and patient care, offering the Doctor of Optometry degree as well as MS and PhD degrees in vision science. The College conducts a robust program of basic, translational and clinical research and has 65 affiliated clinical training sites as well as an on-site clinic, the University Eye Center.  SUNY College of Optometry is regionally accredited by the Commission on Higher Education of the Middle States Association of Colleges and Secondary Schools; its four-year professional degree program and residency programs are accredited by the Accreditation Council on Optometric Education of the American Optometric Association. All classrooms, research facilities and the University Eye Center, which is one of the largest optometric outpatient facilities in the nation, are located on 42nd Street in midtown Manhattan. To learn more about SUNY College of Optometry, visit www.suny.edu.