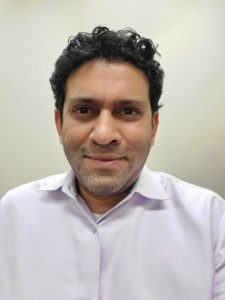 Professor Miduturu Srinivas is studying gap junction channels to uncover new therapies for patients with cataracts, retinopathies and glaucoma.
New York, NY—At SUNY College of Optometry, education goes hand-in-hand with a commitment to service and research as highlighted by the work of Miduturu Srinivas, PhD, professor at the College. A natural scientist, he has always been drawn to the why and how of things.
"Ever since graduate school, I always found the inner workings of proteins such as ion channels fascinating," Dr. Srinivas says of his time earning his PhD in pharmacology at University of Florida. "It continues to inform my desire to identify the cellular and molecular mechanisms by which they contribute to ocular diseases."
But the path to becoming a researcher was not always clear. As a child, Dr. Srinivas wanted to be a musician. 
"I gave up when I realized that I would be a terrible one," he shares. Instead of making music, he ended up at Albert Einstein College of Medicine, studying intercellular communication as a postdoc. His work there led him to the College.
"I was characterizing the biophysical aspects of channel function of proteins that are present in the retina and the lens. I eventually became interested in how they might be altered in disease (for example cataracts), and I applied to SUNY in response to an open faculty position," Dr. Srinivas says. "The fact that the College already had excellent researchers and faculty—and that it was located in the heart of Manhattan offering opportunities for collaborative work with other institutions—made my choice to join as faculty an easy one."
His current research involves biophysical and physiological studies of gap junctions. Dr. Srinivas explains: "Cells communicate with each other in a variety of ways. One way they talk is via a pathway that is provided by specific ion channels called gap junction channels. These channels are necessary for the function of various organs, including the eye. For example, the crystalline lens receives no direct blood supply, yet it is able to function for most of our lifetime without a loss in its transparency. This is in part due to gap junctions, which provide nutrients from the external environment to cells deep in the lens. My research seeks to identify molecules that pass through lenticular gap junctions and establish whether these channels play a role in the etiology of age-related cataracts."
"I am also excited about more recent work in my lab which is directed toward identifying mechanisms by which gap junctions in glial cells of the retina contribute to the formation of aberrant vessels seen in retinopathies," continues Dr. Srinivas, who also teaches pharmacology at the College.
It is work that he's deeply committed to for the sake of patients, providers, and beyond. 
"Cataracts, retinopathies and glaucoma are all leading causes of blindness. It is important to identify new targets for their treatment," Dr. Srinivas says. "I hope my work and others in the field can lead to new therapies and eventually better eye care."
###
About SUNY Optometry
Founded in 1971 and located in New York City, the State University of New York College of Optometry is a leader in education, research, and patient care, offering the Doctor of Optometry degree as well as MS and PhD degrees in vision science. The College conducts a robust program of basic, translational, and clinical research and has 65 affiliated clinical training sites as well as an on-site clinic, the University Eye Center. SUNY Optometry is regionally accredited by the Commission on Higher Education of the Middle States Association of Colleges and Secondary Schools; its four-year professional degree program and residency programs are accredited by the Accreditation Council on Optometric Education of the American Optometric Association. All classrooms, research facilities and the University Eye Center, which is one of the largest optometric outpatient facilities in the nation, are located on 42nd Street in midtown Manhattan. To learn more about SUNY Optometry, visit www.sunyopt.edu.
For Immediate Release: May 20, 2020
Organization Contact: Adrienne Stoller, communications@sunyopt.edu, 212-938-5600