For Immediate Release: June 24, 2020
Organization Contact: Adrienne Stoller, communications@sunyopt.edu, 212-938-5600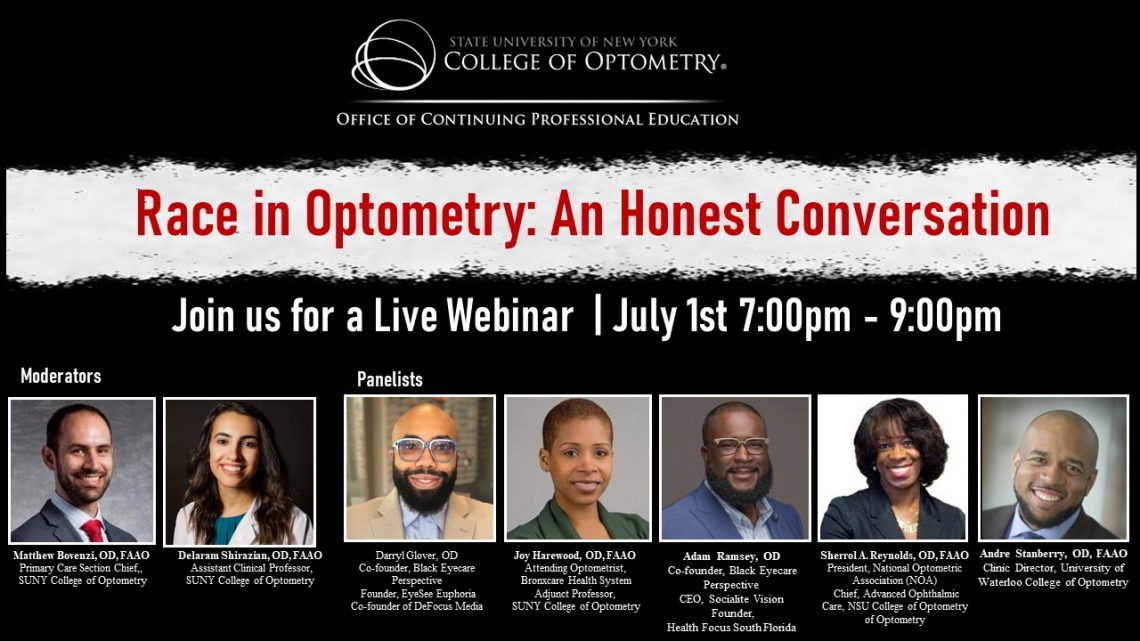 Live Webinar on July 1, 7 p.m. to 9 p.m.
New York, NY—Please join the State University of New York (SUNY) College of Optometry on Wednesday, July 1, from 7 p.m. to 9 p.m., for a timely discussion of "Race in Optometry: An Honest Conversation," a live webinar covering the issues and obstacles that impact Black optometrists. Organized by the College's Office of Continuing Professional Education, this webinar is the first of a two-part series.
The discussion will feature an elite panel of Black optometrists and key opinion leaders who will focus on how race affects optometric training and clinical practice, specifically addressing the Black experience. Panelists will answer guiding questions about their career journey, and facilitate open and authentic dialogue regarding the lack of diversity and exclusion in optometric education and the profession. The forum will also address the ways we can begin conversations about race and increase awareness within the eyecare community while working together to find solutions for eliminating racial disparities.
Moderated by SUNY Optometry faculty Drs. Delaram Shirazian and Matthew Bovenzi, panelists include co-founders of the Black Eyecare Perspective, Drs. Darryl Glover and Adam Ramsey, as well as SUNY Optometry adjunct faculty member and attending optometrist at BronxCare Health System, Dr. Joy Harewood; President of the National Optometric Association and Chief of Advanced Ophthalmic Care at Nova Southeastern College of Optometry, Dr. Sherrol A. Reynolds; and Clinical Director of the University of Waterloo College of Optometry, Dr. Andre Stanberry.
To register, please visit/click Race in Optometry or contact the Office of Continuing Professional Education by emailing ce@sunyopt.edu for more information.
###
About SUNY Optometry
Founded in 1971 and located in New York City, the State University of New York College of Optometry is a leader in education, research, and patient care, offering the Doctor of Optometry degree as well as MS and PhD degrees in vision science. The College conducts a robust program of basic, translational, and clinical research and has 65 affiliated clinical training sites as well as an on-site clinic, the University Eye Center. SUNY Optometry is regionally accredited by the Commission on Higher Education of the Middle States Association of Colleges and Secondary Schools; its four-year professional degree program and residency programs are accredited by the Accreditation Council on Optometric Education of the American Optometric Association. All classrooms, research facilities and the University Eye Center, which is one of the largest optometric outpatient facilities in the nation, are located on 42nd Street in midtown Manhattan. To learn more about SUNY Optometry, visit www.sunyopt.edu.