For Immediate Release: May 7, 2020
Media Contact: Adrienne Stoller, communications@sunyopt.edu, 212-938-5600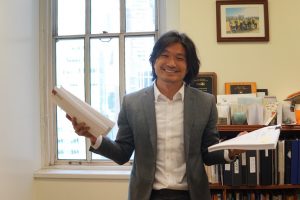 NEW YORK, NY—With an eye on expanding diversity in optometry practice, SUNY College of Optometry's Collegiate Science and Technology Entry Program (CSTEP) won a grant for nearly $1 million to bolster its efforts to support under-represented and economically disadvantaged students. The award was granted in February. 
Administered by the New York State Department of Education (NYSED), the RFP—Collegiate Science and Technology Entry Program GC#20-004, also known as the Collegiate Science & Technology Entry Program RFP, comes with $950,000 over the course of five years. It will support two main goals: exposing, attracting, and recruiting students to optometry and providing them with the resources they need to succeed; and providing resources for students who end up enrolled at the College.
CSTEP specifically works with students of color who are underrepresented in the field of optometry, as well as students who are under-resourced. Eight percent of students at the College are African American, Latino, American Indian, or Alaskan Native. The College's Diversity and Inclusion Master Plan laid out a strategy to increase that percentage and help bring the entire field of optometry on par with the rest of the medical field. There has already been a year-over-year increase in enrollment among underrepresented minorities since 2015, and the incoming 2020-2021 class will be one of the most diverse classes to ever come through the College.
"Our program is unique in that most CSTEP programs are implemented at the undergraduate colleges, but ours is at a professional program. This means we have a unique opportunity to not only expose and support students from undergraduate institutions throughout New York state, but we can also begin to support enrolled optometry students who come from similar backgrounds," says Quy H. Nguyen, OD, director of career development and minority enrichment for the College who took over managing CSTEP in 2015. 
The grant will fund a variety of initiatives ranging from a "gateway" summer academic program of pre-first year courses and tutorial services and assisting with the application process to providing students with scientific research opportunities to prepare them for graduate and professional school, among others. These include enrichment in science, math, study, time management, goal setting, evaluation, and oral presentation skills along with career, admissions, and financial aid counseling to help students prepare for the future. An advisory board for CSTEP will also be established to ensure goals and initiatives for students are met and moving forward. Dr. Nguyen adds that the grant will benefit not only under-represented students interested in pursuing a career in optometry but also their communities as they serve as healthcare practitioners and mentors. 
"Our hope is that this will lead to greater diversity in the profession and that they will end up being teachers, leaders, and role models for the next generation of eye doctors."
###
The Collegiate Science and Technology Entry Program (CSTEP) project at SUNY College of Optometry exists to increase the number of historically underrepresented minority students in CSTEP-targeted professions, most particularly in the growing and dynamic profession of optometry.
About SUNY Optometry
Founded in 1971 and located in New York City, the State University of New York College of Optometry is a leader in education, research, and patient care, offering the Doctor of Optometry degree as well as MS and PhD degrees in vision science. The College conducts a robust program of basic, translational, and clinical research and has 65 affiliated clinical training sites as well as an on-site clinic, the University Eye Center. SUNY Optometry is regionally accredited by the Commission on Higher Education of the Middle States Association of Colleges and Secondary Schools; its four-year professional degree program and residency programs are accredited by the Accreditation Council on Optometric Education of the American Optometric Association. All classrooms, research facilities and the University Eye Center, which is one of the largest optometric outpatient facilities in the nation, are located on 42nd Street in midtown Manhattan. To learn more about SUNY Optometry, visit www.sunyopt.edu.