NEW YORK, October 22, 2018 — The SUNY College of Optometry Alumni Association has named Dr. Joseph Boorady its 2018 Alumnus of the Year. The 1993 graduate was honored during the Envision New York alumni reception Saturday, October 20 at the Princeton Club of New York.
Dr. Boorady, who currently serves as global vice president, ocular surface disease for Johnson and Johnson Vision, got his start in optometry long before he set foot on the campus of SUNY Optometry. His father was an optician and his uncle was an optometrist, and they put the Dunkirk, New York-native to work in their office when he was just 12 years old. "I did everything from fabricating, finishing and polishing lenses to running visual fields," he says. It was only natural that Dr. Boorady would go into the family business. "I decided in high school that I wanted to be an optometrist."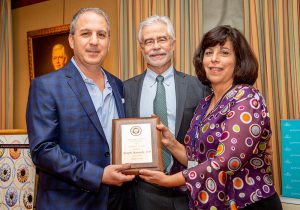 After studying biology at Gannon University and finishing with the SUNY Optometry's class of 1993, he did just that. In 1996, he began a decade-long stint working at his alma mater. "The College was looking for someone to start up the managed care strategy and deal with credentialing, enrolling into panels and negotiating reimbursement, and so I took on the challenge," he says. "I was already a co-founder of a small independent practice association and doing this on a smaller scale. That role grew into becoming the vice president for clinical affairs and executive director of the clinic."
Dr. Boorady, who currently lives in Raleigh, North Carolina, went on to attend Harvard Business School (2010), learning the skills he needed to flex his entrepreneurial muscles, which he used to start and buy several optometry practices and continuing medical education companies over the years. "I have been fortunate to grow and learn in business as well as grow and learn in the ophthalmic arena," he says. "Both have required a dedication to learning and hard work."
Dr. Boorady served as chief operating officer of health care software company Eyemaginations and senior vice president at Carl Zeiss Meditec, but he counts his tenure as president and CEO of TearScience—which was acquired by Johnson and Johnson Vision in September 2017—as his proudest accomplishment. "I was able to use many of the lessons I gained over the years and prescribe them to the business and watch them work. It required strategy, change management, fundraising, commercial execution, team building and transformative leadership," says Dr. Boorady, whose wife Dr. Theresa Sokolowski Boorady was also in his SUNY Optometry graduating class.
He says he would like the work he has done surrounding the business of optometry to encourage others to work at that same intersection. "I hope that people see me as an example of what you can do with your OD degree and are inspired to become leaders in business."
SUNY Optometry's chair of clinical education and director of continuing professional education Dr. Richard Madonna nominated Dr. Boorady for this year's honor. "Joe's leadership has helped improve eye and health care through the development of innovative new technologies. At the same time, he positively represented optometry in his interactions with other health care professions and organizations," Dr. Madonna said. "By combining his business acumen and optometric training, he has been an outstanding ambassador for the College."
Dr. Boorady also delivered the 2018 Envision New York keynote address, Resilience: Lessons Learned from Private Practice, Academia, Industry and the Start-Up Worlds.
Media Contact: Amber E. Hopkins Tingle, 212.938.5607, amber@sunyopt.edu