SUNY Optometry Alum Receives Prestigious Award from NYC Health + Hospitals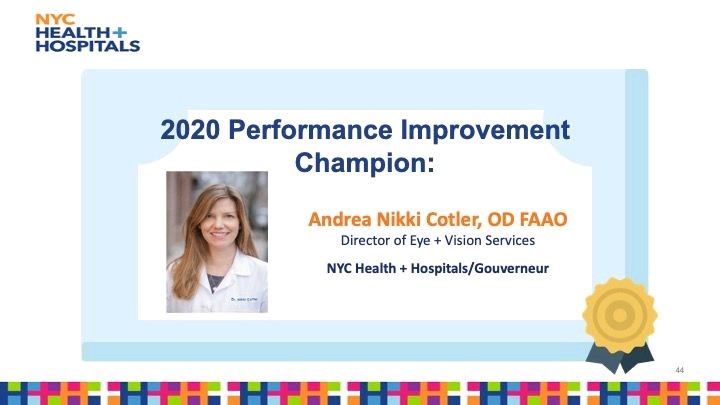 December 24, 2020
New York, NY—SUNY College of Optometry alumna Andrea Nikki Cotler, OD, FAAO, '06, is among nine recipients of the 2020 Performance Improvement Champion Award presented by NYC Health + Hospitals, a healthcare system made up of more than 40,000 employees and a SUNY College of Optometry partner since 2019. Nominated by peers and selected by a multidisciplinary committee, award winners are recognized for going beyond the call of the duty to improve services through collaboration, engagement, and leadership.
In her work, Dr. Cotler oversees eye care services and provides care for patients of NYC Health + Hospitals/Gouverneur. She is currently leading a longitudinal team project to increase retinopathy screening rates for primary care empaneled patients with diabetes and A1C greater than 8.0. She believes that engagement with quality improvement can prevent burnout by giving front line staff the mechanism to make positive changes in their day-to-day work for themselves, their co-workers, and their patients. Among her many accomplishments is improving patient access to ophthalmic diagnostic equipment used to screen for and manage eye diseases like glaucoma and macular degeneration.
Following graduation from SUNY Optometry, Dr. Cotler completed a residency in Ocular Disease/ Primary Care Optometry at the U.S. Department of Veterans Affairs – New York Harbor Health Care System and worked in private practice. She has presented on eye disease at the American Academy of Optometry and academic venues.
Organization contact: Adrienne Stoller, communications@sunyopt.edu, 212-938-5600
###
About SUNY Optometry
Founded in 1971 and located in New York City, the State University of New York College of Optometry is a leader in education, research, and patient care, offering the Doctor of Optometry degree as well as MS and PhD degrees in vision science. The College conducts a robust program of basic, translational, and clinical research and has 65 affiliated clinical training sites as well as an on-site clinic, the University Eye Center. SUNY Optometry is regionally accredited by the Commission on Higher Education of the Middle States Association of Colleges and Secondary Schools; its four-year professional degree program and residency programs are accredited by the Accreditation Council on Optometric Education of the American Optometric Association. All classrooms, research facilities and the University Eye Center, which is one of the largest optometric outpatient facilities in the nation, are located on 42nd Street in midtown Manhattan. To learn more about SUNY Optometry, visit www.sunyopt.edu.