The 1999 graduate serves a growing list of populations.
Diane Boese, OD, showed up for a job interview—for a position she did not plan on taking—to prove a point. Nearly a decade later, hundreds of incarcerated men and women's lives are better because of it.
In 2008, Dr. Boese was an optometrist in private practice in Rockaway, New Jersey. A recruiter asked if she was interested in a position with Rutgers University's Correctional Health Care program, which was created in 2005 to provide medical care to the residents and parolees of the New Jersey Department of Corrections, the Juvenile Justice Commission and the State Parole Board. Affiliated health care workers treat approximately 20,500 incarcerated people in thirteen adult correctional facilities.
Dr. Boese declined. But the recruiter, not wanting to take "no" for an answer, appealed to what she thought was her (presumably weaker) feminine side.
"She said, if you're afraid to come in here to interview, you can bring your husband," recalls Dr. Boese. "I was not afraid! I thought, I'll show you."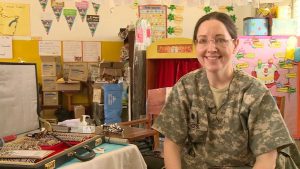 At the interview—which took place at a correctional facility without her husband in attendance— Dr. Boese had a change of heart about taking the position. The medical director assured her that the services that they provided for the incarcerated population were the same quality of care that would be given in private practices or hospitals anywhere. The opportunity to offer top-notch treatment in less than top-notch treatment rooms was a challenge she wanted to accept.
For nearly a decade, Dr. Boese has worked with 12 to 20 patients per day, providing full scope optometry at correctional facilities for people whose ability to go outside for care is restricted. "Here, I am behind a wall," she says. "I have learned to work very independently." She is now the lead optometrist, supervising a team of five.
Dr. Boese's time at the College helped her prepare for this role. She left a career as an environmental analyst in 1995 to study optometry, having become "fascinated" with the field after dealing with her own eye issues. SUNY, however, proved harder than she expected. "I felt like I was behind the power curve," Dr. Boese says about returning to school ten years after being an undergraduate. "It was extremely tough to go to SUNY. They just throw you in that first year. But it made me independent. I can go out and find the answer."
After graduation in 1999, Dr. Boese became an optometrist in the Army, a four-year requirement of the scholarship she received from the military and which paid for SUNY. She served for two years at Fort Sam Houston in San Antonio, and another two at Fort Hood in Killeen, providing eye care for those on active duty. She retired in May of this
year as a Lieutenant Colonel in the Reserves, and her Army Reserve Unit (the 807th Medical Command Deployment Support out of Salt Lake City, Utah) supported the Army Southern Command in Central and South America and the Caribbean Sea with optometry care.
There the challenges came from not knowing the language of her patients—like the time she spent a day in Belize telling people in Spanish to "look at the train" instead of "look front." The mixups, she says, add to the fun memories of the experiences. Google has become her go-to for learning enough words and phrases to talk patients through an exam, from the Dominican Republic to Kosovo to Afghanistan.
It is a situation few optometrists would expect to find themselves in. Yet it is because of her training in optometry that Dr. Boese does not hesitate. Having successfully obtained her degree from SUNY, she knows this absolute about herself: "I can do it."