SUNY Optometry congratulates Dr. Ayah Ahamed as she receives the 2018 Johnson & Johnson Vision Award of Excellence in Contact Lens Patient Care.
The award is given by the American Academy of Optometry Foundation to recognize outstanding fourth-year student clinicians who have demonstrated excellent overall knowledge of the contact lens field and skillful, considerate and professional care of contact lens patients during their optometric education.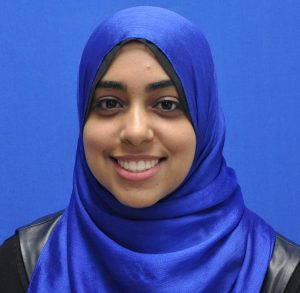 A 2018 OD/MS alumna, Dr. Ahamed received a BA in natural science from Fordham University. She was advised by Dr. Jerome Sherman and mentored by Dr. Mark Rosenfield and Dr. Eva Duchnowski as a SUNY Optometry student.
She is confident that her research, which evaluates the accuracy and repeatability of a handheld autorefractor in astigmatic eyes, enhances her abilities in clinical settings.
"While there have been a wide number of published studies which have evaluated both the precision and repeatability of different autorefractors, relatively few studies have exclusively examined these parameters in eyes with significant amounts of astigmatism," says Dr. Ahamed. "A higher level of accuracy is critical in these eyes, since relatively small errors, particularly in the axis of astigmatism, will have a marked negative impact on a patient's visual acuity."
Each of this year's 23 winners will receive a $500 educational award and a personalized plaque to commemorate the accomplishment.