As an optometrist, science writer and mother of triplets, the 2004 graduate touches lives daily.
What do optometry and freelance writing have in common? In the case of SUNY Optometry alumna Dr. Cheryl G. Murphy, a dedication to patient education.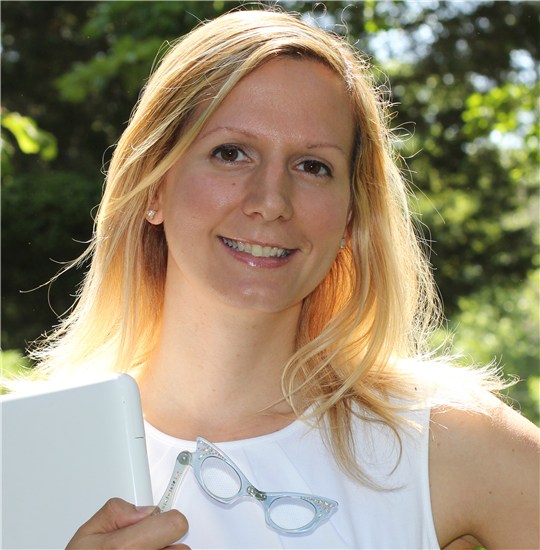 Dr. Murphy became interested in optometry as a biology/pre-med major at the University at Albany while taking (and loving) a course with Dr. Sue Tieman. When Dr. Edward Johnston presented to Albany students about SUNY Optometry, Dr. Murphy says she had a tremendous feeling that this is what she was meant to do. "Optometry married a lot of my interests: vision, physics, health care and helping people," she says.
But she wasn't going to leave her acceptance up to chance. She contacted the College and, after explaining her background in vision research, asked if any researchers needed an assistant for the summer. She spent the next two summers working with Dr. Philip Kruger as he studied the effects of chromatic aberration on accommodation.
Dr. Murphy went on to work in a variety of settings. "I have enjoyed working in both private optometric and private ophthalmic practices. If you can find a practice that puts the patient first and allows you to have the right amount of time with each patient in order to practice to the best of your ability, you are blessed," she says.
It's a blessing she first experienced while working with the late Dr. Frank Verdone (OD '86). "He believed in making patient health a priority and allowed his associates enough time to do thorough, high quality, health-oriented eye exams," Dr. Murphy says. "He didn't want me to just treat and diagnose, he wanted me to treat, diagnose and explain. I still keep these ideals in mind today; doing so makes me a better doctor."
These days, the Utica, New York-native splits her time between working at Sachem Eye Care and North Island Ophthalmology, and writing freelance science-focused articles. She started writing as another way to serve her mission of patient education. In 2008, she created a blog, Science Hidden In Plain Sight, and writes about things she explained over and over to patients in the exam chair, including presbyopia, dry eye and why patients need yearly contact lens re-evaluations.
A friend connected her to Jobson Publishing, which produces Review of Optometry, 20/20, Review of Optometric Business, Women in Optometry and Vision Monday. A decade later, she has added many publications to her roster of clients, including Scientific American and Huffington Post Science, where she shares vision tips of the week. On her work: "Writing for optometric magazines has been such an enjoyable and rewarding experience. It gives me a great sense of pride to help educate the public. The little bit of extra income is also nice."
In 2013, Murphy won the New York State Optometric Association's Communications Award for her science writing. But that doesn't trump her biggest personal accomplishment: giving birth to triplets Ryan, Caitlyn and Michael in 2007. "They were born premature at 32 weeks, after months of bedrest. They have now grown into healthy, smart and witty 10 year olds, and the profession of optometry has allowed me the flexibility to devote much of my time toward bike rides and helping them with common core math!"
But her biggest reward would be to have a far-reaching legacy. "I saw when Dr. Verdone passed just how much of an impact we can have on people's lives—not just by giving them new glasses, but by sharing an emotional connection with them and improving their overall quality of life," Dr. Murphy says. "Our patients look to us for care, wisdom, kindness and strength. I hope that I provide all of these things for my patients and that I will for many more years to come."