The 2010 alumna is the 2019 Association of Schools and Colleges of Optometry Rising Star.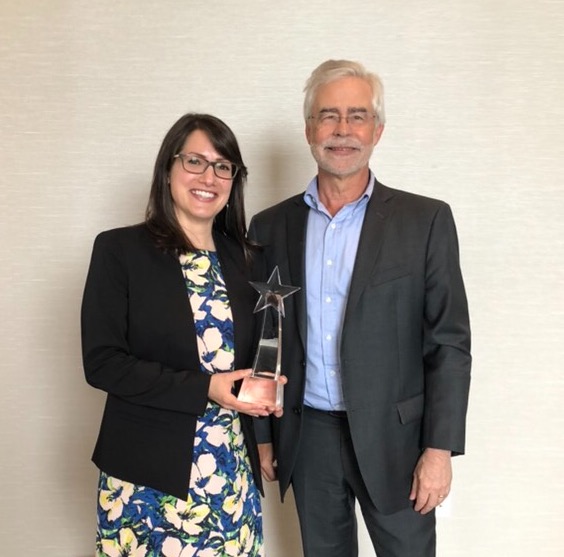 For Dr. Diane Russo '10, deciding to work as an optometrist was as simple as going along with the inevitable. "Health care and education run in my family. My mother is a nurse and my father is an optician and professor," explains the Staten Island native. "They both encouraged me to pursue a career in the medical field and exposed me to their professions early and often. I felt that optometry would be the best fit. The variety and quantity of opportunities makes it a fascinating field."
She says SUNY Optometry was always on her radar. "It was clearly a top school. It presented the unique opportunity to live in a city I love and receive a superior education. Once accepted, it was a no-brainer."
Dr. Russo's career is an amalgam of sorts of her parents' work. As an associate professor of optometry at New England College of Optometry (NECO) in Boston, she trains the next generation of optometrists. And as the instructor of record for NECO's public health course, she flexes her newly acquired Master of Public Health degree—which she earned from Harvard University while working full-time.
"Teaching has been a great professional fit for me because it allows the combination of my passions for education, patient care, public health and advocacy," explains Dr. Russo, who also does legislative work on behalf of her employer and its patients. "As much as I enjoy patient care, I've always felt compelled to affect change at a higher level. This is what led me to teaching and public health policy. Knowing that I can have some influence on future generations of the profession is a humbling and energizing mission."
Dr. Russo's mission extends beyond the classroom; she is also passionate about access to eye care for vulnerable populations. She is currently working on a research project looking at visual and ocular disorders among a homeless population in Boston and plans to look at potential barriers to follow-up care for community health center patients.
Her love for the College drove her to join the Alumni Association board, despite the distance. "It's a way for me to stay connected to the school, up-to-date on developments and involved in student and alumni engagement," Dr. Russo says.
Media Contact: Amber E. Hopkins Tingle, 212.938.5607, amber@sunyopt.edu