The island's entire population was evacuated following the storm. Dr. Bird set up a free clinic to address their vision needs.
When Hurricane Irma hit Barbuda on September 6 with winds in excess of 180 miles per hour, it leveled the Caribbean island, damaging more than 90 percent of the homes, taking out the power grid, interrupting the flow of running water, and forcing the mandatory evacuation of all 1,800 residents.
SUNY Optometry alumna Dr. Jillia Edris Bird, OD, MS '89 is witnessing the impact of the storm firsthand in her native St. John's, Antigua, where she is attending to the evacuated residents of Barbuda in the free clinic she opened at her office. There, she is doing everything from replacing lost glasses to providing glaucoma medication to removing foreign bodies from the eyes of children. "We are feeling eternally blessed in Antigua as we work to settle our displaced Barbudans," Bird says.
She lent her talents to the people of Barbuda, Antigua's sister island, long before the storm, joining with her pediatrician twin sister, other medical community colleagues and the local Pentecostal church to host gratis vision and health screening clinics. And as the island has no resident eye care providers, she sees many Barbuda residents in her regular practice; they take a ferry or plane to traverse the 39 miles to her practice in Antigua for care.
As the president of the World Glaucoma Patient Association and founder of the Antigua and Barbuda Glaucoma Support Group, Dr. Bird has dedicated her life to service. "I was born of and raised by parents who dedicated their lives to social work and service, so I grew up knowing nothing else. I've learned that giving back to the community that nurtured you enriches your life in unimaginable ways," she says.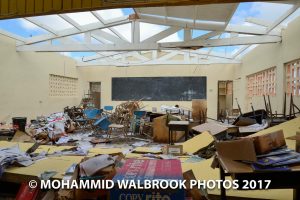 Though she originally thought she would be a sugar chemist—an ambition that was dashed when the West Indies sugar industry failed in the '80s—she quickly found her calling at SUNY. "My clinical focus is in the area of enhancing global knowledge and awareness of open angle glaucoma, with the goal to improve our pitiful early detection rates and reduce the staggering blindness numbers, especially in the Caribbean," says Dr. Bird, who was the 2013 Alumna of the Year. "I was drawn to this area after being recruited while still a student at SUNY Optometry by epidemiology lecturer Dr. Cristina Leske to join the Barbados Eye Study team. The 1989 Barbados Eye Study is still history's largest population study on glaucoma in black eyes."
Dr. Bird has dedicated her career to this population, and now she welcomes the aid of the SUNY Optometry community in her efforts on the ground. "I have a dream of acquiring gently used portable testing equipment—slit lamp, phoropter, pachymeter, Icare tonometer—to establish a mobile optometric clinic for continuation of my volunteer clinics on Barbuda when the rebuilding commences," she says. "If the SUNY community could help me identify such equipment at reasonable prices through its contacts in the field, Barbudans would be very appreciative."
Dr. Bird may be reached at JilliaB@gmail.com.