The chief of optometry at Kansas City Veterans Affairs Medical Center has a massive impact on patient care.
Dr. Kristen Moyer '04 spent a lot of time in the optometrist's office as a kid. "I had strabismus surgery when I was five years old—and have very clear memories of it!" she says.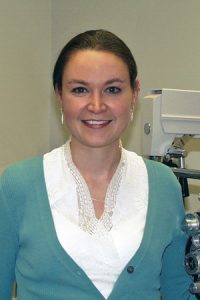 By middle school, she was considering a potential career in the profession, but an internship during her undergraduate studies cemented her commitment to eye care. "I majored in chemistry and had an internship in the organic chemistry department at Northwestern University over the summer, and I decided that research was not for me. I love the autonomy and creativity that go hand-in-hand with being a doctor and decided to pursue my original interest: optometry."
From what she can recall ("It has been about 19 years since I interviewed!"), choosing to earn her OD at SUNY Optometry came down to instinct. "I remember feeling very welcome at the College. And how could I pass up the opportunity to experience living in New York City and all it has to offer?" Dr. Moyer says. "I think everyone should live in a large city at some point in their lives—I learned so much about myself and others during my four years there."
What she learned both inside and outside the classroom and lab prepared Dr. Moyer for her current role as chief of optometry at Kansas City Veterans Affairs Medical Center. She completed a residency in ocular disease and low vision rehabilitation there in 2005, and joined the staff as an optometrist in 2007.
Dr. Moyer stepped into the chief role in 2010; it's a job that brings her tremendous professional satisfaction and lets her complete the circle. "I love that I get to wear so many hats. I enjoy being able to hire so many talented staff and residents. This is where I feel like I can have the most impact on patient care." The Rochester, New York-native also serves as an adjunct assistant professor at the University of Missouri-St. Louis College of Optometry.
But she says her biggest accomplishment is being a mom to three young boys, ages 2, 4 and 6. When she's not hanging out with them, she helps others live their best lives—including connecting interested College students and alumni with work in the Midwest.
"One of my favorite quotes is by Howard Thurman: 'Don't ask yourself what the world needs. Ask yourself what makes you come alive and then go do that. Because what the world needs is people who have come alive,'" Dr. Moyer says. "I would like for my coworkers, former trainees and especially my family to say that I helped them pursue the true, the good and the beautiful—the things that help us come alive—both in their personal and professional lives."