Violet Kolecki's visit to see a plaque dedicated to her daughter was a testament to the strong connections forged at SUNY Optometry.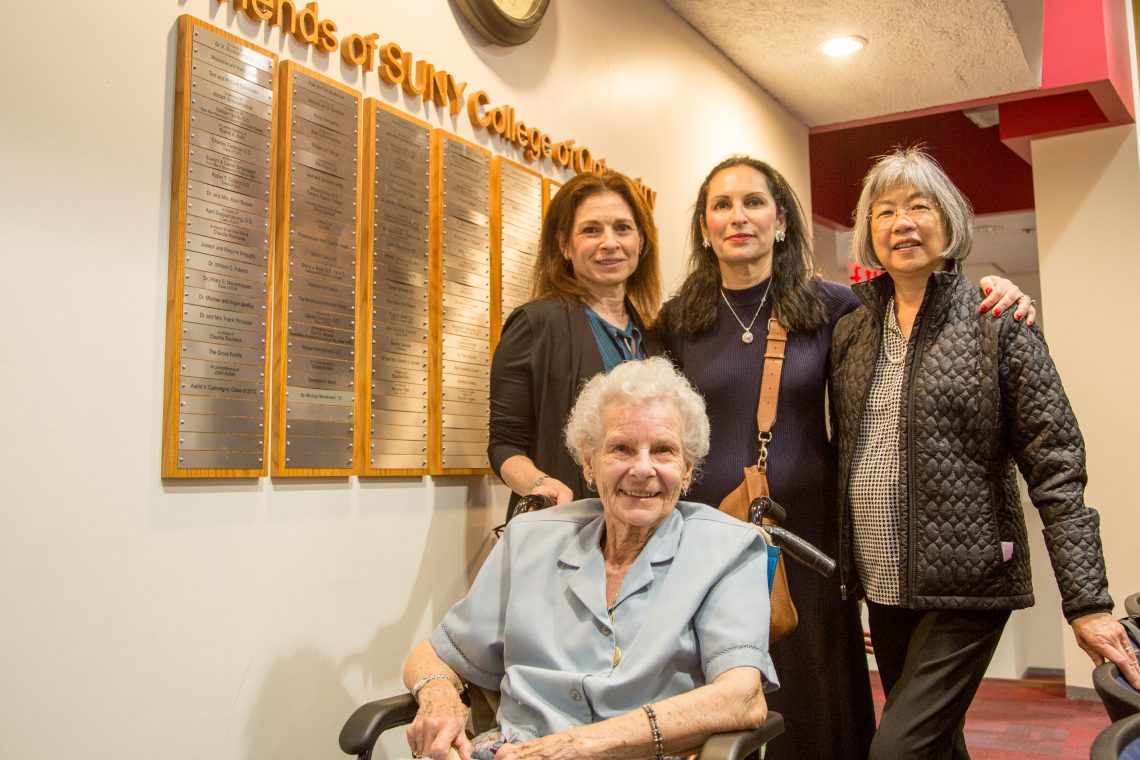 Violet Kolecki did not attend SUNY Optometry. But she was able to cross an item off her bucket list at the College.
In May, the Buffalo resident came to Manhattan to visit a plaque dedicated to her daughter, Dr. Marcia Kolecki '81, who passed away from ovarian cancer in 2007. The plaque was purchased by several of Marcia's classmates, women who became close friends over the years. In seeing it, Violet was able to not only honor her child, but to see the school that helped her achieve her professional dream.
"This is a once in a lifetime thing, you put aside your regular routine so this can happen," said Dr. Meryl Brownstein '81, the Greenwich, Connecticut-based optometrist and alumna who arranged the trip. "We wish Marcia could have been there, but her memory was alive."
While at the College, Dr. Kolecki lived with Dr. Brownstein and fellow classmates Dr. Sari Schaumberger Gordon '81 and Dr. Christine Ng-Yow '81. "We were roommates for two years," says Brownstein. "In that time, her parents would come down from Buffalo to visit, so we got to know them as well."
After graduation, Dr. Kolecki ran a private practice in Denver, Vogue Optical, while volunteering at a local animal shelter. She also maintained close connections to the East Coast. "We still kept in touch and when she came to Buffalo, I'd go up to visit her," says Dr. Brownstein. "I even went to her parent's [vacation] house near Canada."
It was Dr. Brownstein who organized the purchase of the plaque in 2008. And when she told Mrs. Kolecki about it, Marcia's mother said it was important to her to visit. That day became possible this spring. "Mrs. Kolecki flew from Buffalo to Boston where her daughter, Maria, lives, and they drove down and stayed at my house in Greenwich. The next day I took her into the city where we met up with Christine and Sari. We went into the school, saw the plaque and took photos," says Dr. Brownstein. "She said she never thought she was going to see this plaque; she was so appreciative. It felt good to have this come out of something that was so terrible."
Dr. Brownstein also had her doubts that the elder Kolecki would see the plaque. "Did I really think this was going to happen, that she was going to come down? No, but it did!" she says. "And we stayed up the night before until midnight telling stories [about Marcia] and looking at the yearbook."
It is often said that optometrists change their patients' lives, but it is also possible that the profession—and the College—can change the lives of its students, forging connections across miles and generations.