She is excited to serve her country by providing eye care for military service members.
When Dr. Nicole Nowling '18 was in kindergarten, her teacher had each student in the class write down what they wanted to be when they grew up.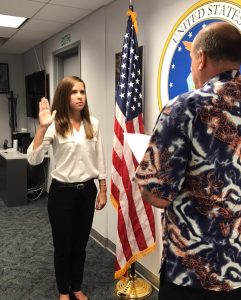 "To this day, I have that piece of paper framed in my room. It says, 'I wort to bee a Dakktar,'" Dr. Nowling says. "I am thankful that my English and grammar have drastically improved since, and even more thankful that my dream of becoming a doctor has come true."
The East Setauket, New York-native figured out what type of doctor she wanted to be a little later.
"Growing up with imperfect vision, I spent many hours being treated by my optometrist, fitting, adjusting and ordering new glasses and contact lenses," she says. "My interest in health care, and in optometry in particular, can be traced back to those early days. Over time, I learned the importance of a positive, productive doctor-patient relationship, which my doctor demonstrated."
As an undergraduate at SUNY Cortland, she shadowed several optometrists and will never forget the plight of the patient who made her understand the importance of the work.
"A patient walked into an otherwise routine eye exam and walked out with the diagnosis of potentially fatal optic nerve swelling," Dr. Nowling says. "This exam put into perspective the type of diligence that I will continue to practice as an optometrist."
She also takes that diligence into her work with the United States Air Force, where she was commissioned as a captain on August 22, 2018. "Health care professions play a crucial role within the Air Force, where maintaining outstanding health, including exceptional vision, is critical to the success and well-being of service men and women," she says of the work ahead of her as an optometrist in the military. "I am drawn to the opportunity to both serve my country and use my skills to provide outstanding service and treatment. Having grandfathers and uncles who served in the military also serves as an inspiration for me."
While she is grateful to be commissioned and excited about what comes next, Dr. Nowling counts earning her SUNY Optometry degree as her biggest triumph to date. "The most important thing I've learned is to be myself, trust the skills that I've worked hard to acquire, embrace opportunities that present themselves, and always focus on trying to exceed the expectations of my patients," she says.