The 1983 graduate—whose daughter is a 2017 alumna—contributes to the profession by helping others in his field.
In a career that spans more than three decades, Mark Feder, OD, has steadfastly pursued one goal: to do work that makes others' lives better. "Being able to help people and change their lives has been the most rewarding part of my life," he says. And this altruism has had a direct impact on SUNY College of Optometry since 2016, when he became a member of the Optometric Center of New York (OCNY) board of trustees.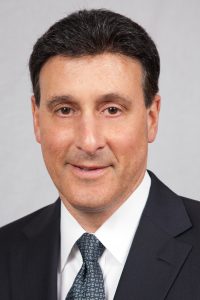 Dr. Feder first joined the College community as a student in the 1970s. After earning a B.A. in biology from SUNY Binghamton, he shifted his career focus to optometry and knew there was only one school that could prepare him. "I chose the College for the opportunity to spend four years in the most vibrant city in the world," he says. "I also knew the clinical experience of seeing patients in the diverse population of New York would be unparalleled. I have never regretted the decision."
Post graduation, Dr. Feder moved into private practice at a time when optometry was in the midst of a groundbreaking development. "In 1983, soft contact lens were relatively new to the industry," says Dr. Feder, who joined a private practice that heavily focused on vision therapy. "My goal was to become the best I could be at fitting all types of contacts and add this as a niche to the practice. For many years, I went to every conference and workshop that I could across the country to learn about them." In 1983, he also founded Norwalk Eye Care in Norwalk, CT, building a practice where patients could benefit from this contact lens knowledge.
But Dr. Feder doesn't only help patients, he also advises other optometrists. Today, he conducts clinical trials on new lenses for a number of contact lens manufacturers. He is also the CEO of IDOC, an organization he founded in 1999 that has grown to be the largest independently owned doctor's alliance, representing over 3,000 optometrists in the United States. "It provides business management support, continuing education and group purchasing power, while giving a voice to the independent optometrist in an ever-changing competitive environment," Dr. Feder explains.
In addition to running Norwalk Eye Care and IDOC—which Dr. Feder considers his "two proudest professional accomplishments"—he is also on the advisory boards of several contact lens and pharmaceutical companies.
Dr. Feder joined the OCNY board in 2016 after a conversation with the College's president, Dr. David Heath. "We were discussing opportunities for me to give back, and both agreed this was one of the best ways I could help the College achieve its goals," he says.
The family also made a generous gift, which facilitated the renovation of the new Feder Lecture Hall on the College's first floor.