He is the founding dean of the Kentucky College of Optometry at the University of Pikeville and will step into the role of executive vice president of College of Health Sciences at Tusculum on January 1, 2018.
You could say that Andrew R. Buzzelli, OD, MS is a man who relishes challenges, and you would be right. And the vice president of optometric education at Kentucky College of Optometry at the University of Pikeville says he learned the value of taking up the good fight during his days at SUNY College of Optometry, where he earned his master's degree in visual science and child development in 1981. He is the founding dean of the Kentucky College, which didn't exist until he opened it in fall 2016.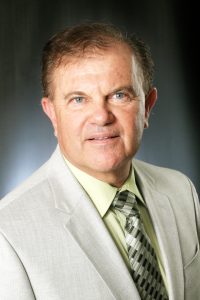 "I arrived in Appalachia alone. I was shown a mountain where an optometry college would sit one day. I remember looking out at this beautiful piece of abandoned America and thinking how strange it was that I would come to this place," Buzzelli says. "But it was really no different than looking out on the State University of New York clinics that I encountered and knowing that it was our job to take care of individuals who might not have the care they needed. For me, SUNY was the foundation for understanding the challenges that must be overcome."
The Hilton Head Island, South Carolina-native earned his doctorate in optometry from the Illinois College of Optometry. While the factors that draw him to the field have changed over the years, his commitment has been unwavering.
In the beginning, it was all about the patients. "What first drew me to optometry is the opportunity to be involved in patient care," he says. "The excitement of having a professional career (the first of my family to ever do so) was something I had dreamed of since high school, and SUNY provided challenges of clinical care in many different settings."
His 24 years with the United States Air Force and the Air National Guard added a new dimension to Buzzelli's career. He served in many positions, including as the Air National Guard assistant and chief advisor to the Air Force surgeon general, where he reviewed proposals and initiated recommendations regarding programs, policy, operations and how to best use the 108,000 members of the guard.
"Optometry all of a sudden became a leadership think tank. I learned through all of the schooling that the Air Force provided that it is never about you, it is always about focusing on taking care of those who are entrusted to your care," he explains. "Leadership enables you to persevere under the most difficult of circumstances. Were it not for my military optometry experience, I would not have had that critical element to sustain and confront the significant challenges that I was not aware lay ahead."
An authority on binocular vision and visual perception—he's one of just a few dozen optometrists in the world that the American Academy of Optometry recognizes as a diplomat in the field—he went on to work at several universities, serving as dean of the Rosenberg School of Optometry at University of the Incarnate Word in San Antonio, Texas, before moving to Kentucky.
These days, he's come full circle with his motivation. "Today, what draws me to optometry is what makes optometry great—service to people who have no access or opportunity to receive optometric care," he says. "I saw glimpses of that in my early days working in the near and distant clinics and other care sites of SUNY."
When asked what he hopes his legacy will be, the retired Air Force colonel's thoughts turn back to SUNY: "My legacy is the legacy of all SUNY alumni. When we hear that the goal is not achievable, we step forward to provide the tools of success. When all agree that it is a staggering challenge to be present where people are underserved, SUNY alumni provide."