How many successful businesses can one guy run? So many.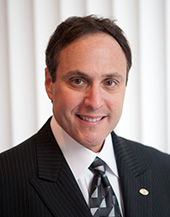 Dr. Barry Eiden always knew he would go into health care, but a visit to an optometrist pushed him toward eye care.
"I visited various health care professionals during my undergraduate years and once I visited a local OD's practice and saw the diversity of services and the technology basis of an optometric practice, I was hooked!" he says. "Unlike so many others who went into optometry based on their own vision care experiences, I actually never wore any form of vision correction. I am a bit embarrassed to say that I only had one eye exam prior to entering optometry school!"
Once the decision was made, it was just a matter of figuring out where to go to school, and attending SUNY Optometry only made sense for the New York City-native. "I was a SUNY undergraduate and resident of New York, so the economics of going to optometry school in New York were compelling," he explains. "Plus, it was well known that SUNY Optometry was one of the elite optometry programs in the country." He liked the College so much he returned to teach for four years, as an assistant clinical professor of optometry. He also served as chief of primary eye care services for three years.
These days, Dr. Eiden is flexing his entrepreneurial muscle, running three different businesses. "I have always felt that I had 'business in my blood.' My father owned a ladies clothing manufacturing business, and I always listened to him about running a business," he says. His businesses also allow him to pursue his academic and research interests.
As president and medical director of North Suburban Vision Consultants—a group practice with two locations in the northern suburbs of Chicago—his personal clinical focus is the management of anterior segment disease, keratoconus and specialized contact lens designs. "I also have quite a large glaucoma practice and primary care practice. We are multi-specialty with ODs and MDs, so a variety of clinical areas are covered by our associate specialists, including pediatric eye care, binocular vision and vision therapy, low vision rehabilitation, aesthetic eye care/oculo-plastic surgical care and cataract/refractive surgical care."
At EyeVis Eye and Vision Research Institute, Dr. Eiden conducts research studies in the ophthalmic field. "We have run studies for both large contact lens and pharmaceutical companies as well as a number of smaller startup companies," he says of the company he started in 2005.
Almost four years ago, he co-founded the International Keratoconus Academy of Eye Care Professionals. "Our mission is to educate eye care practitioners and to inform patients about the state of the art in keratoconus diagnosis and treatment," he says. The condition involves thinning and bulging of the cornea that typically distorted vision. "We now have more than 400 members and have presented education all over the country at some of the largest eye meetings." The organization is also working to expand into webinars and podcasts, and is currently conducting a large study on the prevalence of keratoconus in children.
It seems Dr. Eiden's work has put him on track to achieve his desired legacy: "I would like to be considered as someone who provided excellent and compassionate care to my patients, someone who helped move our profession forward, and above all, someone who people thought was simply a good person."
But the past chair of the American Optometric Association's Contact Lens and Cornea Section and fellow of the American Academy of Optometry says it's his life outside of work of which he's most proud: "Of course my best accomplishment is meeting my beautiful wife Carol [Barron, OD '81] and creating three amazing children—Jeffrey, Danny and Lauren—together," he says. "I could not be more proud of my family and they mean everything to me."