The dean of Michigan College of Optometry at Ferris State University found focus—and a wife!—when he was a student.
When Dr. David Damari decided to go to optometry school, he went against the advice of nearly everyone he knew. Today, the dean of Michigan College of Optometry at Ferris State University is still reaping the rewards of his then-unpopular decision.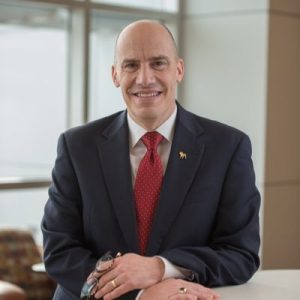 Dr. Damari, who is from Endwell in upstate New York, chose SUNY College of Optometry after deciding on a career in the field. "Most of my friends and family advised me that I should not go to school in New York because the city was too dangerous and too expensive," he says. He ignored them—and although it involved frequent house-hopping to avoid inflated apartment fees ("both counties on Long Island, three boroughs and two towns in New Jersey during my four years of optometry school; five of them in my first year alone!")—he thrived. "In hindsight, it was the best decision I could have made," Dr. Damari says. "Most of all because of the faculty I had the privilege to learn from and the classmates I studied with."
His greatest academic achievement at the College was acceptance into the Vision Therapy Residency program. "The faculty for the residency were, and remain, the most outstanding minds and clinicians in binocular vision, strabismus and vision therapy," he says. "It was a great privilege to learn from and work with those men and women."
Yet his greatest personal achievement at SUNY was a particularly unique one. Says Dr. Damari, "It was becoming friends with and eventually marrying the person who came to SUNY as director of admissions during my second year, Rita Frumento Damari." Romance aside, Dr. Damari also recognizes that his wife taught him empathy, which helps him to connect with patients, students and coworkers.
It was another unexpected relocation that guided Dr. Damari's post-graduation life. After nearly five years in private practice in Rochester, New York, he missed teaching. And he had little time to spend with his young family because of the demands of a thriving practice. So he headed south, taking a trip to Southern College of Optometry in Memphis at the recommendation of two faculty members. "I felt right away that I could learn a great deal from both of them and several of the other faculty there about ocular disease, educational assessment and leadership, and I sold the practice within a few months."
That was in 1997, and Dr. Damari has been an educator ever since. He became a professor at Southern College of Optometry and the chair of the Department of Assessment. He was also a fellow and past president of the College of Optometrists in Vision Development and a fellow of the American Academy of Optometry. In addition to the work he does as a consultant on visual disabilities for many national and state testing and licensing boards, he is currently president of the Association of Schools and Colleges of Optometry. In that role, Dr. Damari focuses on how technology impacts the optometry profession—and how students and schools can best meld the demands of optometry with the rapidly changing tech world.