The 2004 graduate is all about meeting the needs of the industry and his patients—even if it puts him out of a job.
Justin Bazan has a knack for telling the truth, starting with why he got into optometry.
"What originally drew me to optometry was that it seemed it would afford a comfortable lifestyle. The ODs I had known and shadowed were happy, which was something that I didn't see in a lot of other health care providers," says Dr. Bazan, a Utica, New York-native who has always had an affinity for the biological sciences. But ease and comfort are not what keep him in the field.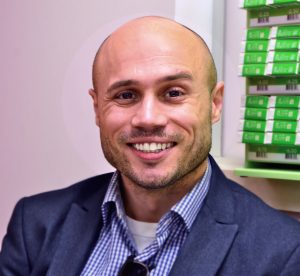 "Optometry combines my passion for helping others with my love of science and my desire to own my own business," he explains. "But it was only after graduation and actually getting into it as a career, not just a 9 to 5 job, that the expansiveness and diversity of the optometric industry revealed itself. There are so many facets. I wear so many hats. And I love them all."
And though the owner of Park Slope Eye in Brooklyn loves his alma mater, being a part of the SUNY College of Optometry community wasn't originally in Dr. Bazan's plans. "I had just completed my undergraduate degree in Texas and wanted to stay. Okay, there was a girl involved, too," he confesses. The University of Houston accepted him, but despite living in Texas for four years while attending Trinity University, the school was going to charge him the out-of-state rate. Hoping to avoid debt, he looked to his home state. "I came to SUNY Optometry for an interview during my senior spring break and crushed it. It felt like it was meant to be." The in-state tuition and an unexpected scholarship ("Thankfully not tied to my GPA!" says Dr. Bazan.) also helped.
After completing a couple of internships, including one with Syracuse VA Medical Center, Dr. Bazan opened his Brooklyn practice in 2008. He says it has evolved with the neighborhood. "My practice serves a community with a lot of new parents. Recognizing an unmet need in our community, we added a vision therapy department," he says. "We offer services that I don't consider special, because I hope they become the optometric norm: pediatrics, myopia control and disease management."
While he values entrepreneurship, the impetus to start the practice in the middle of a recession came when he was fired from his first full-time job as an OD. "Before you get to thinking I'm a bad employee, it was actually because I cared too much. My vision involved a higher standard of care than my employer, but that is a story for another time," he says. "I had always planned to start my own business, so that is exactly what I did right after being fired."
It's a good thing he loves wearing all of those hats. When he is not running his practice, Dr. Bazan helps others do the same. "I'm so thankful for the ability to share my entrepreneurial insights and ideas on advisory boards, consulting projects, lecture gigs and media opportunities," he says. That work includes acting as a spokesperson for The Vision Council. "Working one-on-one with people is fantastic, impactful and often life-changing. However, the ability to reach many through public media campaigns is special. The Vision Council allows me to reach the masses with messages that educate them about their eyes and eyewear. In turn, it helps strengthen our industry," he says.
When he finally whips off the hats for the day, Dr. Bazan is all about exploring the city. "NYC is a never-ending story and I'm trying to read as many pages as possible. I'm a work hard, play hard type of person, and you can catch me out socializing many nights," he says. "I love meeting my optometric colleagues, and I'm here to help, so don't be a stranger!"