The Collegiate Science and Technology Entry Program aims to bring more underrepresented groups into the optometry field.
Optometry has a long way to go to achieve racial and gender parity, but the Collegiate Science and Technology Entry Program (CSTEP) at SUNY Optometry aims to bridge that gap. From providing Optometry Admission Test prep to offering career placement services, the program strives to increase the number of optometry students and doctors from underrepresented groups in the United States.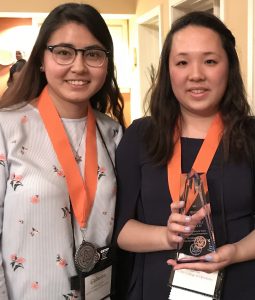 "There is a severe lack of diversity in health care, particularly optometry. This program is especially important for the SUNY Optometry," says Dr. Quy H. Nguyen, director of career development and minority enrichment for the College. "In the last two years alone, students who participate in one of our three CSTEP programs yearly tend to apply to and enroll at our college. Eight percent of the College's Class of 2021 came from our CSTEP programs."
Even before they enroll, undergraduate students who participate in CSTEP internships and summer academic programming connect with career-shaping opportunities. In fact, two Spring 2017 interns used the skills they gained in the program at the 26th Annual Statewide CSTEP Student Conference in Bolton Landing, New York. Presenting research completed during their CSTEP internships, Gulnoza Azieva and Jia Tan won second place in the health sciences category with their answer to the question, "Can optic neuritis lead to multiple sclerosis?"
"We stress the importance of effective communication to our own optometry students, and it's trickled over to our CSTEP programs as well," says Dr. Nguyen. "We provided a workshop about how to create and deliver an effective presentation. The aim was to get our CSTEP interns to think about the audience and how best to engage them when speaking."
Ms. Tan, a recent Fordham University graduate, says the instruction definitely helped her and Ms. Azieva, who just completed her coursework at Hofstra University, place in the competition. "The public speaking workshop taught me the skills for being an effective public speaker. Strategies such as practicing lines, engaging with the audience and coping with nerves helped us win second place," says Ms. Tan. "We agreed that fewer words and more photos were the best way to present any research. We wanted our work to be understood by all types of audience members, regardless of their science background."
Ms. Azieva also thinks the topic helped them clinch the win. "We wanted our presentation to be based on why optometry is important. Since your optometrist regularly checks the health of your eye, she or he can be the first person to detect a problem," Ms. Azieva explains. "Optic neuritis can be detected by your optometrist, and it can be an indication of a larger disease such as multiple sclerosis. Early detection is important, and an OD plays an important role in detection."
Both students hope to attend the College.
"I have spoken with many optometry students and they all love the learning environment and the wonderful professors," says Ms. Azieva.
The breadth of the instruction intrigues Ms. Tan. "I am impressed with the many different modalities in optometry that the students were exposed to."
Both already have a fan in Dr. Nguyen. "It's validating to know that what they've learned in their internships has carried over to their professional lives," he says. "I strongly believe little wins like this are crucial to help to empower these students as they embark on their professional journeys."