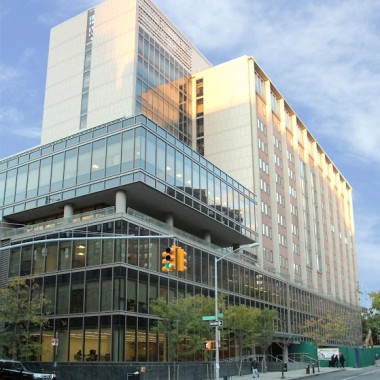 SUNY Optometry has signed an agreement with Gouverneur Health, one of New York City's largest public hospitals, to help run its eye care clinic. The hospital, which is administered by the city's Health and Hospitals Corporation and located in lower Manhattan, originally opened its doors in 1885 and currently serves hundreds of thousands of patients, from all over New York City, each year. Gouverneur recently completed a major, multi-year modernization project that includes the expansion of its eye care services.
SUNY Optometry will hire a chief of optometry who will serve alongside a chief of ophthalmology to manage the hospitals busy eye clinic. Fourth year OD students from the College will have an opportunity to rotate through Gouverneur as part of their externship experience.
The agreement with Gouverneur Health helps to further strengthen SUNY Optometry's ongoing relationship with New York City's Health and Hospitals Corporation as well as with major hospitals in the region. The College already has clinical agreements with Woodhull Medical Center and East New York Diagnostic and Treatment Center and is looking to continue to develop additional relationships to help expand both the educational opportunities that it provides for its students as well as the care that provides for the people in its community.
"It's important for us to continue to develop relationships with major health care institutions that respect the full scope of optometric practice," Dr. Richard Soden, SUNY Optometry's director of health care development said. "We have an excellent clinical and educational relationship with the Health and Hospitals Corporation and this new agreement with Gouverneur Health will allow us to further expand on that."
As part of the agreement, SUNY Optometry's externs will potentially have the opportunity to rotate through a variety of other services at the hospital and gain critical interprofessional experience.
"Our goal is to have our students not only examining patients but also observing other health care disciplines such as endocrinology, pediatrics, podiatry and other services at Gouverneur," Dr. Soden said. "It's important for our students gain the experience of working as a member of a broad health care team in order to treat patients. This is the direction that health care is moving and we need to ensure that our students are prepared for it."
SUNY Optometry has more than 50 clinical affiliations across New York City and beyond representing a broad cross section of clinical opportunities designed to expose students to the depth and breadth of what the modern health care delivery system has to offer.