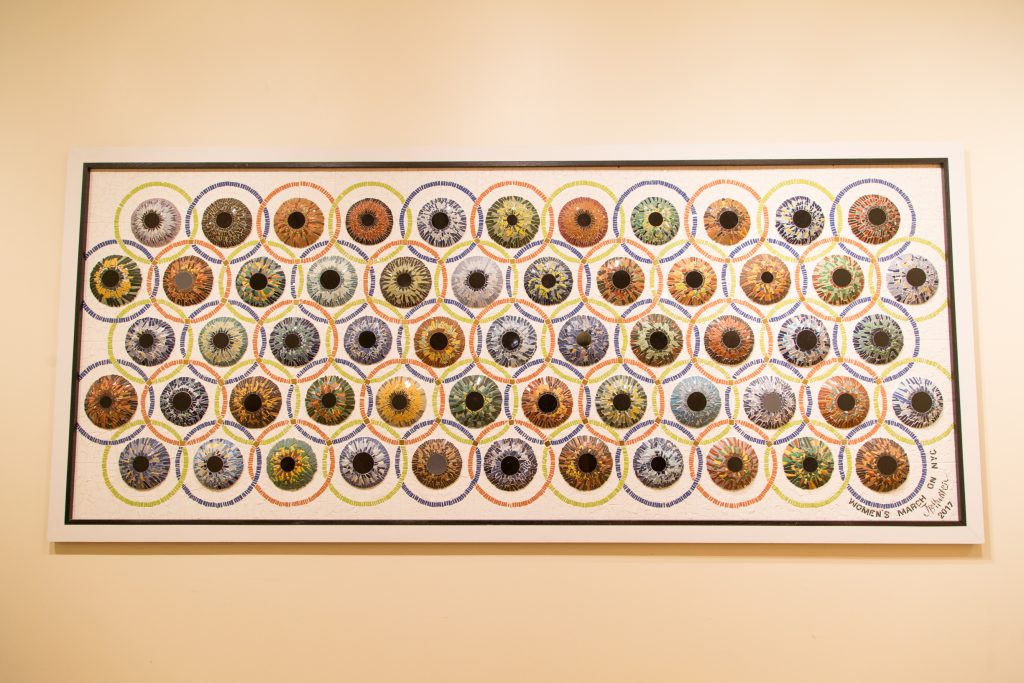 Created during the first Women's March in New York City on January 21, 2017, Eyes of the World symbolizes the importance of citizen vigilance in modern society. It was produced in solidarity with the worldwide protest, which advocated a "world that is equitable, tolerant, just and safe for all, one in which the human rights and dignity of each person is protected and our planet is safe from destruction," according to artists and organizers Joanne and Bruce Hunter.
The Hunters are known for organizing community-based mosaics related to school curricula or social concerns, the mural represents the American people, whose "eyes are constantly watching to ensure that any and all policies embody human rights, advance civil rights, and promote the highest degree of equality."
The artists devised the concept and design of the mural and set up an impromptu studio in the ballroom of the Hilton Millenium Hotel at United Nations Plaza, where the event began.
Marchers volunteered and stopped in to make the mural using broken crockery to fill in the outlines of the design and mirrors to examine their own eyes for comparison and color. Grout was later applied to complete the composition and render it impervious to the elements.
Media Contact: Amber E. Hopkins-Jenkins, 212.938.5607, aehopkinsjenkins@sunyopt.edu