Ten students from Wenzhou Medical University visited SUNY Optometry in late July on a four-week joint program with the New England College of Optometry (NECO) as part of the Second Annual Global Health Leadership Development program.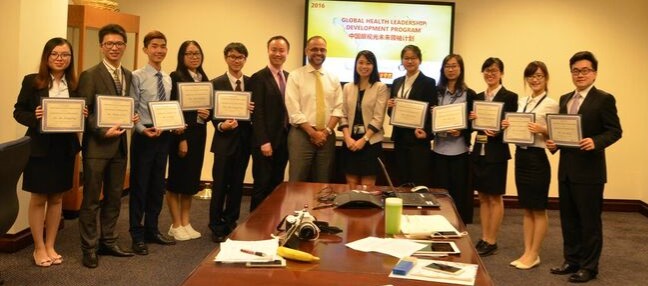 During the program, students took part in lectures and workshops that help to broaden their perspectives on global health care while providing useful skills for leadership development. The first two weeks were spent at NECO in Boston and the next two at the College in New York City.
While at SUNY Optometry, the visiting students spent time learning about a variety topics, including gaining a thorough understanding of the US health care system and much more They also observed a variety of different practice modalities, including specialty clinics at the University Eye Center as well as private practice clinics and other facilities such as the Bowery Mission in lower Manhattan.
Each student created a presentation demonstrating their experiences, exploring their values and connecting this information to their educational and professional goals in China. Based on these reflections, students then developed a career plan that will enable them to meet these goals.
"These students are at the top of their class in academics and were chosen for this internship because of their leadership potential," said Dr. Jennifer Hue, an assistant clinical professor at SUNY Optometry who coordinated the program for the College. "Over their two weeks at SUNY, they broadened their perspectives on health care and eye care worldwide. They also saw the variety of ways that optometrists practice in the US. It was a wonderful experience for everyone."