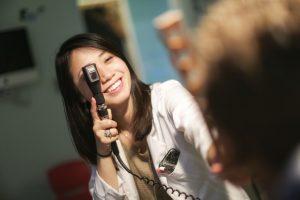 New York, NY—State University of New York (SUNY) College of Optometry is pleased to honor a major milestone for New York optometrists as legislation is signed into law by Governor Kathy Hochul on October 25 allowing doctors of optometry the authority to prescribe certain oral medications for the treatment of eye diseases (A1921/S1519). Until now, New York was the only remaining state in the nation prohibiting oral prescribing authority for optometrists.
           "We are proud to have supported the New York State Optometric Association (NYSOA), led by College alumna Dr. Viola Kanevsky, and NYSOA Legislative Committee Chair Dawn Chivers, in educating legislative officials about the importance of broadening the scope of practice in our state that serves one of the largest and most diverse populations in the country," said SUNY Optometry President David Heath, OD, EdM. "The newly passed legislation is a fitting turning point in the College's 50-year history and a mark of tremendous progress for our students, profession, and patients who will benefit from expanded healthcare practice standards in New York." 
           Many in and outside the SUNY Optometry campus community helped lobby for the passage of the "Orals Bill," including legislation sponsors Assemblymember Amy Paulin, Senator Jamaal Bailey, and State University of New York leadership in Albany.
           "It has been a long journey to this moment requiring concentrated advocacy and optimism to achieve alignment with optometric practice standards set throughout the rest of the nation," said Jennifer Kelly Campbell, SUNY Optometry Associate Vice President Alumni & Government Relations. "It is a win for the optometric profession in our state and for the thousands of people our doctors care for each day."
For more information about SUNY College of Optometry, celebrating 50 years of scholarship and service this year, visit sunyopt.edu.
October 29, 2021
Organization contact: Adrienne Stoller, communications@sunyopt.edu, 212-938-5600
###
About SUNY Optometry
Founded in 1971 and located in New York City, the State University of New York College of Optometry is a leader in education, research, and patient care, offering the Doctor of Optometry degree as well as MS and PhD degrees in vision science. The College conducts a robust program of basic, translational and clinical research and has 65 affiliated clinical training sites as well as an on-site clinic, the University Eye Center.  SUNY Optometry is regionally accredited by the Commission on Higher Education of the Middle States Association of Colleges and Secondary Schools; its four-year professional degree program and residency programs are accredited by the Accreditation Council on Optometric Education of the American Optometric Association. All classrooms, research facilities and the University Eye Center, which is one of the largest optometric outpatient facilities in the nation, are located on 42nd Street in midtown Manhattan. To learn more about SUNY Optometry, visit www.sunyopt.edu.