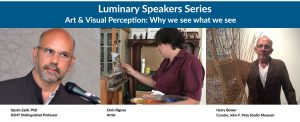 New York, NY—Ever wonder why we see things the way we do? Learn how sight shapes our reality as the State University of New York (SUNY) College of Optometry partners with the John F. Peto Museum to examine the science of visual perception and the art of illusion used in trompe l'oeil style painting at the second installment of the College's 50th Anniversary Luminary Speaker Series on November 10, 2021 starting at 5:30 pm.   
Guest speakers include:
Quasim Zadi, PhD, Distinguished Professor, SUNY Optometry
Chris Rigney, Artist
Harry Bower, Curator, John F. Peto Studio Museum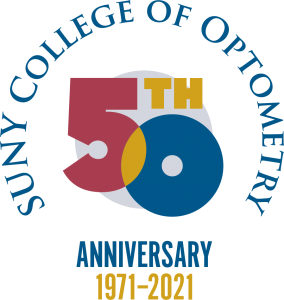 The interactive webinar is free and open to the public. Register here in advance.
In commemoration of its founding in 1971, SUNY College of Optometry launched the 50th Anniversary Luminary Speaker Series featuring experts and advocates addressing various topics in eye care and vision health that impact people of all walks of life. 
Running now through June 2022, the speaker series kicked off September 28, 2021 with "Seeing Through the Eyes of Children" including an expert panel discussion on the impact of vision on child development and learning.
WATCH: Seeing Through the Eyes of Children
For more information about SUNY Optometry 50 years of scholarship and service to the community, visit sunyopt.edu.
October 26, 2021
Organization contact: Adrienne Stoller, communications@sunyopt.edu, 212-938-5600
###
About SUNY Optometry
Founded in 1971 and located in New York City, the State University of New York College of Optometry is a leader in education, research, and patient care, offering the Doctor of Optometry degree as well as MS and PhD degrees in vision science. The College conducts a robust program of basic, translational and clinical research and has 65 affiliated clinical training sites as well as an on-site clinic, the University Eye Center.  SUNY Optometry is regionally accredited by the Commission on Higher Education of the Middle States Association of Colleges and Secondary Schools; its four-year professional degree program and residency programs are accredited by the Accreditation Council on Optometric Education of the American Optometric Association. All classrooms, research facilities and the University Eye Center, which is one of the largest optometric outpatient facilities in the nation, are located on 42nd Street in midtown Manhattan. To learn more about SUNY Optometry, visit www.sunyopt.edu.