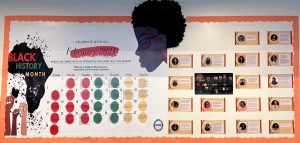 New York, NY—For the third year in a row, the SUNY College of Optometry chapter of the National Student Optometric Association (NOSA) honors Black History Month with an Inspiration Wall along with a video tribute highlighting the profiles and achievements of Black members affiliated with the College community.
On display within the College's Student Center, the Inspiration Wall features a month-long calendar of Black culture and facts chronicling the challenges, pioneers, and milestones that encapsulate the Black experience in optometric education and the profession. Included in the mural and captured in a newly created video for this year showcased via social media are stories and motivational messages from SUNY Optometry students, staff, and graduates who share their insight, observations, and appreciation to mentors and trailblazers who paved the way.
"It is a time to remind ourselves that change is very much overdue, and we should push ourselves to have conversations and listen," said SUNY Optometry third-year student and NOSA chapter leader Omar Perdomo. "We hope our efforts will help spark and continue the conversation now and in the future."
SUNY Optometry President David A. Heath, OD, EdM, who enacted the President's Task Force on Race and Equity at the College last year, commended the students for celebrating Black History Month in a way that engages and empowers the entire College community. "From our students and staff to alumni and partners, we have taken a collective focus toward advancing equity and eliminating disparities within the health care profession and patient care," said Dr. Heath.
The National Optometric Association established NOSA in 1979 to further its student members' professional development and increase diversity in the profession.
For more information about diversity and inclusion initiatives and programs at SUNY Optometry, visit sunyopt.edu.
February 26, 2021
Organization contact: Adrienne Stoller, communications@sunyopt.edu, 212-938-5600
###
About SUNY Optometry
Founded in 1971 and located in New York City, the State University of New York College of Optometry is a leader in education, research, and patient care, offering the Doctor of Optometry degree as well as MS and PhD degrees in vision science. The College conducts a robust program of basic, translational and clinical research and has 65 affiliated clinical training sites as well as an on-site clinic, the University Eye Center.  SUNY Optometry is regionally accredited by the Commission on Higher Education of the Middle States Association of Colleges and Secondary Schools; its four-year professional degree program and residency programs are accredited by the Accreditation Council on Optometric Education of the American Optometric Association. All classrooms, research facilities and the University Eye Center, which is one of the largest optometric outpatient facilities in the nation, are located on 42nd Street in midtown Manhattan. To learn more about SUNY Optometry, visit www.sunyopt.edu.