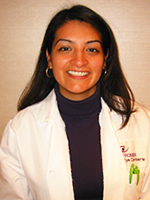 NEW YORK, May 1, 2018 — Dr. Diane Calderon will begin as chief of the primary care service at SUNY Optometry's University Eye Center on July 9.
Dr. Calderon received her Doctor of Optometry degree from the Pennsylvania College of Optometry (PCO) in 2003 and completed a residency in primary care optometry at PCO in 2004. She began her career as an assistant clinical professor at Nova Southeastern University College of Optometry and served in various roles during her tenure, including supervisor of third- and fourth-year interns, laboratory and didactic instruction.
In 2008, Dr. Calderon relocated to New York and began her career at Fromer Eye Centers. She has provided full-scope optometric care, ranging from comprehensive primary care to working alongside ophthalmologists to provide advanced care in a range of specialties. Working closely with SUNY Optometry's Office of Residency Education, she founded the first OD/MD optometric residency in the State of New York.
Dr. Calderon is a fellow of the American Academy of Optometry and a member of the American Optometric Association. She has served on the peer review board for Optometry – Journal of the American Optometric Association and has been a clinical examiner for the National Board of Examiners in Optometry.
Media Contact: Amber E. Hopkins-Jenkins, 212.938.5607, aehopkinsjenkins@sunyopt.edu