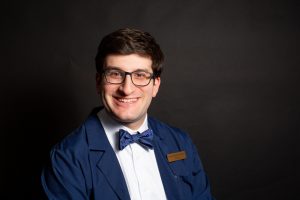 The Class of 2022 is a musician-blogger-IT specialist who loves optometry in its midst.
One glance at Constantinos Bacas's weekly schedule leaves the impression that this must be the "to do" list of four people. There are classes and labs for the first year student in the doctor of optometry program, as well as IT work, music, oncology and quality time with his fiancé. And he wouldn't have it any other way.
In fact, one reason the Morristown, New Jersey-native chose optometry was because it would provide him with the work-life balance necessary to juggle his many interests. Yet beyond giving him the ability to do a lot, optometry will fulfill another, deeper need: his desire to help others.  "As I was completing my Masters degree, I knew I wanted to enter a primary care field as I was a people person and wanted to form connections with my patients," he says. "After shadowing an optometrist and learning how [they] diagnosed someone close to me with a systemic disease as part of a routine eye exam, I knew that this was the field for me. Optometry would provide me with the professional balance I looked for and would allow me to care for my patients' entire health, not just their eyes."
An optometrist that Bacas shadowed was an alumna of the SUNY College of Optometry, and he became interested in the school as she talked about her education. After doing lots of background research—information sessions and phone calls—Bacas was both prepared and nervous when it was time for his interview. "My nerves were immediately put at ease, though, when I met with the admissions committee—instead of having a grueling interview session, we had a conversation about who I was," he says.
One thing that was discussed was his ongoing interest in medicine. In 2016, when Bacas was completing his masters degree in biomedical sciences at New Jersey Medical School, he began a blog called Disease Detective. Based on his love of medicine and biology, it uses peer-reviewed studies to make complex topics more accessible to the general public. Before SUNY, he also had experience as a clinical researcher, working as a research assistant in the Oncology Research Department at Morristown Medical Center.
Not surprisingly, the College offered him a spot in the class of 2022. "I knew SUNY was the program for me. As soon as I found out I was [accepted], I immediately said "yes!" recalls Bacas.
As he nears the end of his first year, Bacas has taken a particular interest in specialty contact lenses, dry eye and ocular diseases. "Specialty contact lens has captivated me because you can get tangible results—I was humbled to witness the reaction of a patient who tried a specialty lens and gained her sight, when she had previously been unable to see out of her one eye for over a decade. This reaction really drove home why I entered medicine," he says.
He has also found a way to use his work as an independent IT consultant to benefit the College by becoming the student representative on the Information Technology Council. "I do a variety of IT work for small businesses outside of school and have worked at many medical institutions before entering SUNY and thought my background could lend itself to the council," he says. "Being on the council is fulfilling to me because I can add my voice to help SUNY incorporate technology that will help students, faculty, and patients for the years to come."
There is one more skill that Bacas has yet to display to the SUNY community, though perhaps he will as part of an end of the term celebration: his musicianship. "I play five instruments and used to run my own jazz band when I was younger!" says one of the College's most well-rounded students.