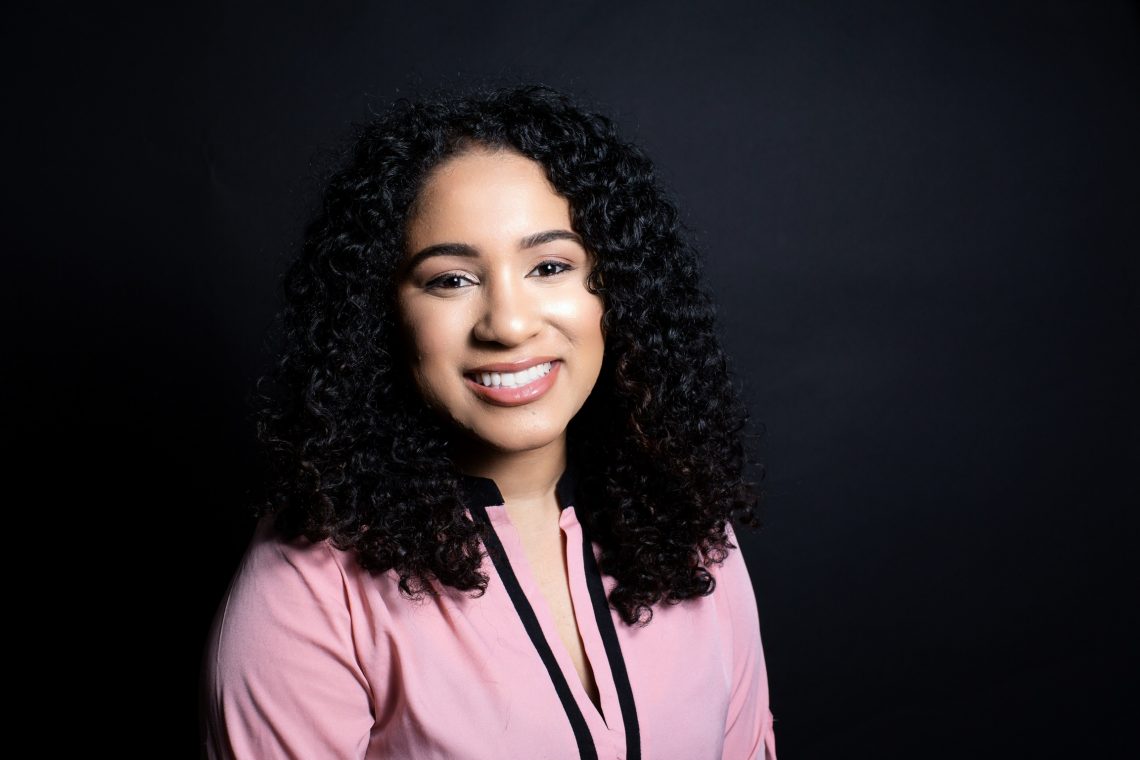 One year before she will graduate from SUNY Optometry with her doctorate, Monique Mohammed already knows one thing about next year, the year after that and every day of her future career: she will remain dedicated to helping and inspiring others.
The Roosevelt, New York-native has already taken a mission trip to Jamaica to bring eye care to an underserved community and works within the College community to encourage diversity and an appreciation for the contributions of optometrists of all races and ethnicities. Here, she reflects on why she must give back and how that will make her a better eye care practitioner.
What sparked your interest in optometry?
I have been interested in medicine since I was a child. During my undergraduate years at Adelphi University, I participated in an internship at SUNY Optometry. I knew nothing about optometry, but I was open to the experience. I was delighted to find out that not only was I interested, but I wanted to pursue this as a future profession. When I completed my bachelor's degree and master's of science in biology, I felt it was the right time to apply to the College, and in 2016 my journey began toward becoming Dr. Mohammed.
My interest also stems from my passion to give back to underserved communities, identical to where I grew up. I want to not only be an effective doctor, but one who advocates for my patients and provides them with the proper education so they are well informed about their health.
Beyond studying, you have spent your time at the College focused on giving back—why is this important to you? 
Growing up, I never saw doctors that looked like me or that came from a similar background as mine. This lack of representation in the health field led me to push harder to create a space for myself in medicine. I knew that having a mentor was something I needed, so during high school I participated in a medical enrichment program at Columbia University Medical School. While there, I was surrounded by high school students who looked like me and wanted to be doctors. This gave me the fuel to continue to push forward.
This year, you initiated an inspiration wall at SUNY Optometry during Black History Month. What led to that idea?
Black culture and history is ingrained in every fiber of who America has become, so the idea of not celebrating it is obscene. I wanted to celebrate the success of minority optometrists and opticians. As president of the College's chapter of the National Optometric Student Association, I wanted to implement a yearly tradition that will inspire students. The inspiration wall was located in a high-traffic area, and included excerpts from the doctors about their journeys to optometry. The most satisfying part was starting the conversation about diversity initiatives and the importance of continuing to enhance minority enrollment and retention within optometry.
What have you gained from your mission trips?
It is my opportunity to learn more about someone else's culture and further develop my understanding of people. I had the opportunity to travel to Guatemala in 2015 through my church and helped create a garden in an orphanage that housed children who were diagnosed with HIV. That experience confirmed that I definitely wanted to continue to partake in mission trips when the right opportunity presented itself.
Three years later, I [had] the opportunity to go to Jamaica and provide eye exams to the wonderful people of the medically underserved community of Hanover. I jumped at the opportunity because not only am I Caribbean-American, with roots in Jamaica and Trinidad, but I absolutely love what I do. [The mission] provided me with an amazing opportunity to not only grow as a clinician but I also grew personally, as I had a deeper appreciation for and understanding of people.
Media Contact: Amber E. Hopkins Tingle, 212.938.5607, amber@sunyopt.edu