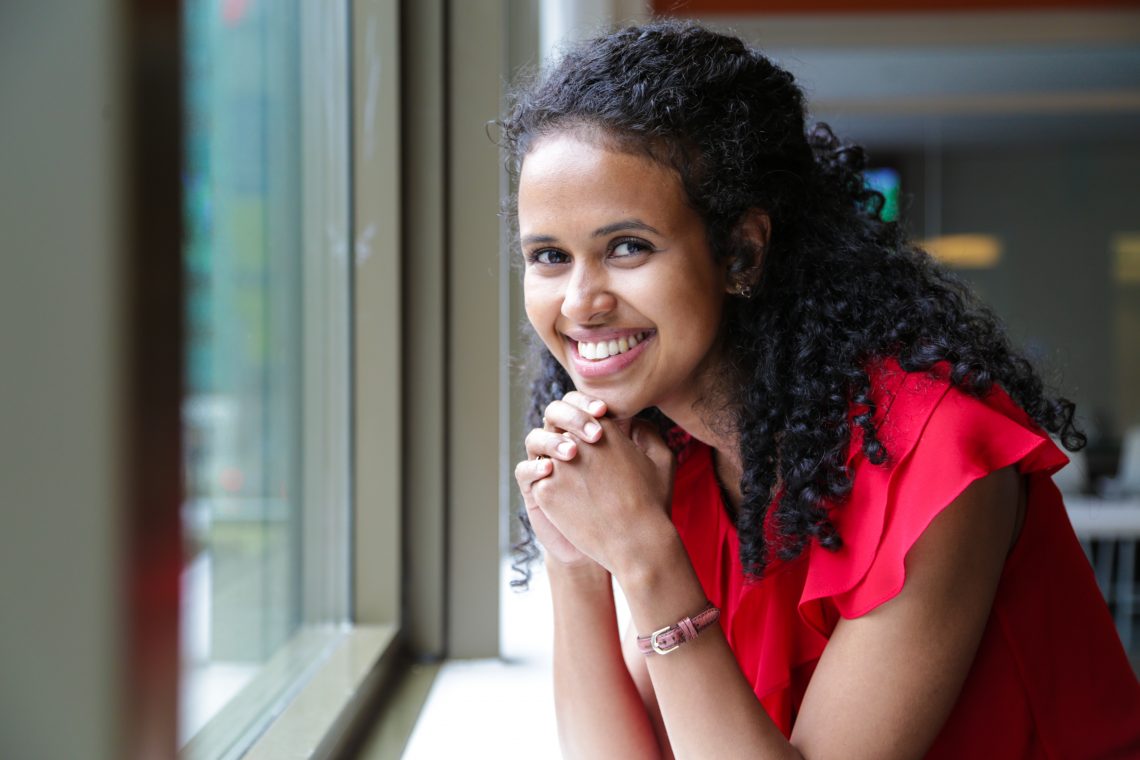 Yohanna Emun has given her all both inside and outside the classroom, but she's most proud of her work with the National Optometric Student Association. "We started an initiative with the purpose of reaching out to high school programs serving students from underserved and underrepresented communities and giving them presentations on optometry," she says. "We were motivated by the hope of diversifying the profession and recruiting students from underserved communities so that one day they may want to go and work and give back to their communities."
Ms. Emun is this year's recipient of the Dr. Benjamin Freed Memorial Award for Community Service, which is sponsored by the Reader's Digest Partners for Sight Foundation, and the Good-Lite Pediatric Award for Excellence in Pediatric Optometry. Here, she reflects on her time at the College and discusses what's still to come.
Degree: Doctor of Optometry (2019)
Hometown: London, Ontario, Canada
Undergraduate Education: Western University — Biochemistry and Cell Biology (2014)
Leadership Positions: National Optometric Student Association (NOSA) Vice President (2016-2017)
What drew you to optometry?
I completed an internship working for a vaccine manufacturer between my third- and fourth-year at university. I quickly realized research and development was not for me and I missed interacting with people on a daily basis. Knowing I wanted to stay in health care, I researched different career paths and came across optometry. It combines the ideal amount of patient interaction and medical decision-making. Four years into this career, I know I made the right choice.
What do you plan to do after graduation?
I will complete a pediatric residency at SUNY Optometry, which will provide me with the skills and knowledge base to comfortably treat and manage pediatric cases.
What is your fondest memory of your time at the College?
My fondest memory from my time at SUNY Optometry is the white coat ceremony. It was a day filled with excitement as we received our white coats prior to entering the clinic as third-year students. Our families, friends and faculty were all there to support us, and it felt like we were finally clinicians.
What was your favorite class?
My favorite class was Ocular Anatomy in my first year. I was excited about the material because it was very relevant to becoming an optometrist and the professor kept the class engaged through his diagrams and stories.
How did your classmates shape your experience at the College?
In our first- and second-year, we were all going through the same classes together and understood the weight of exams and clinical assessments, so everyone was encouraging and as helpful as they could be. In our third- and fourth-year, we worked in clinic together and were all trying to transition to being clinicians, so people would help get equipment for you or answer questions while you waited for a supervisor.
Why was it important for you to work with student organizations at the College?
Coming to optometry school, I knew I wanted to join an organization that valued serving the community and valued increasing diversity within optometry, and NOSA shared both those values. Through NOSA, I also met a network of working optometrists dedicated to serving the community and increasing diversity in optometry, so I know I can continue this work in the future.
What's your best advice for incoming and current students?
My best advice to incoming and current students is to absorb as much as you can. Go to class and learn the material. Go to lunch meetings. Step outside your comfort zone and meet people to expand your network. The four years of optometry school go by so fast, so take advantage of every opportunity presented to you.
Media Contact: Amber E. Hopkins Tingle, 212.938.5607, amber@sunyopt.edu