NEW YORK, February 19, 2019 — The SUNY Optometry chapter of the National Optometric Student Association (NOSA) has developed and installed an Inspiration Wall in the College's Student Center for Black History Month 2019.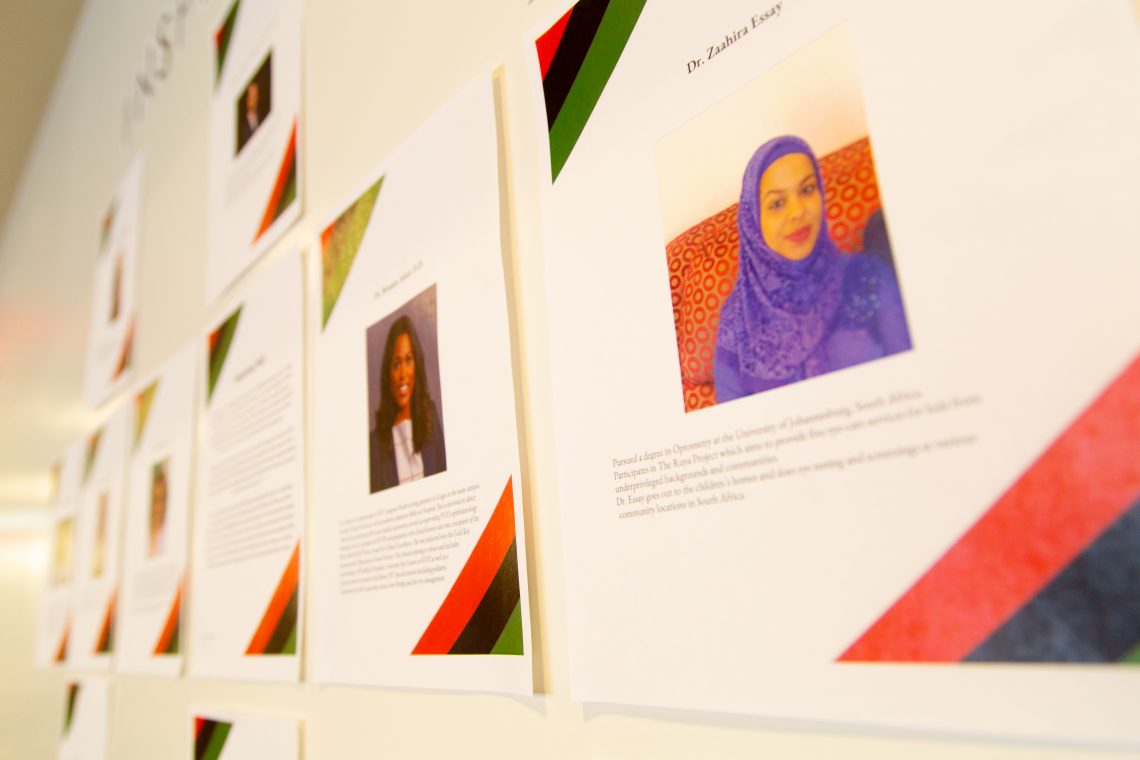 The chapter's community outreach chair Mariah Marshall, Class of 2021, led the initiative to express appreciation for the achievements of College-affiliated optometrists and opticians of African descent.
"We began by contacting recent attendees of our annual NOSA brunch," she said. "We collected their pictures and a few fun facts, including why they chose careers in optometry and their specialties."
The colors of the Pan-African flag–red, black and green–complement the profiles of the optometrists and opticians, including Dr. Brieann Adair, Dr. Gordon Allen, Dr. Frank Barnes, Jr., Dr. Tanya Carter, Dr. Camille Cohen, Dr. Zaahira Essay, Ms. Sherma Lashley, Dr. Edwin Marshall, Dr. C. Clayton Powell, Mr. Darwin Richmond and Mr. Quintin Sawyer.
President David A. Heath commended the students for taking the initiative to highlight Black History Month in this way. "Diversity was adopted by the College community as a core value and as a strategic objective in the College's 2018 – 2023 Strategic Plan: Care, Lead, Advance," he said. "It is important that we embrace diversity in our conversations and in our actions."  
The National Optometric Association established NOSA in 1979 to further the professional development of its student members and increase the diversity in the profession.
The College community is encouraged to visit the installation on the third floor during the month of February.
Media Contact: Amber E. Hopkins Tingle, 212.938.5607, amber@sunyopt.edu