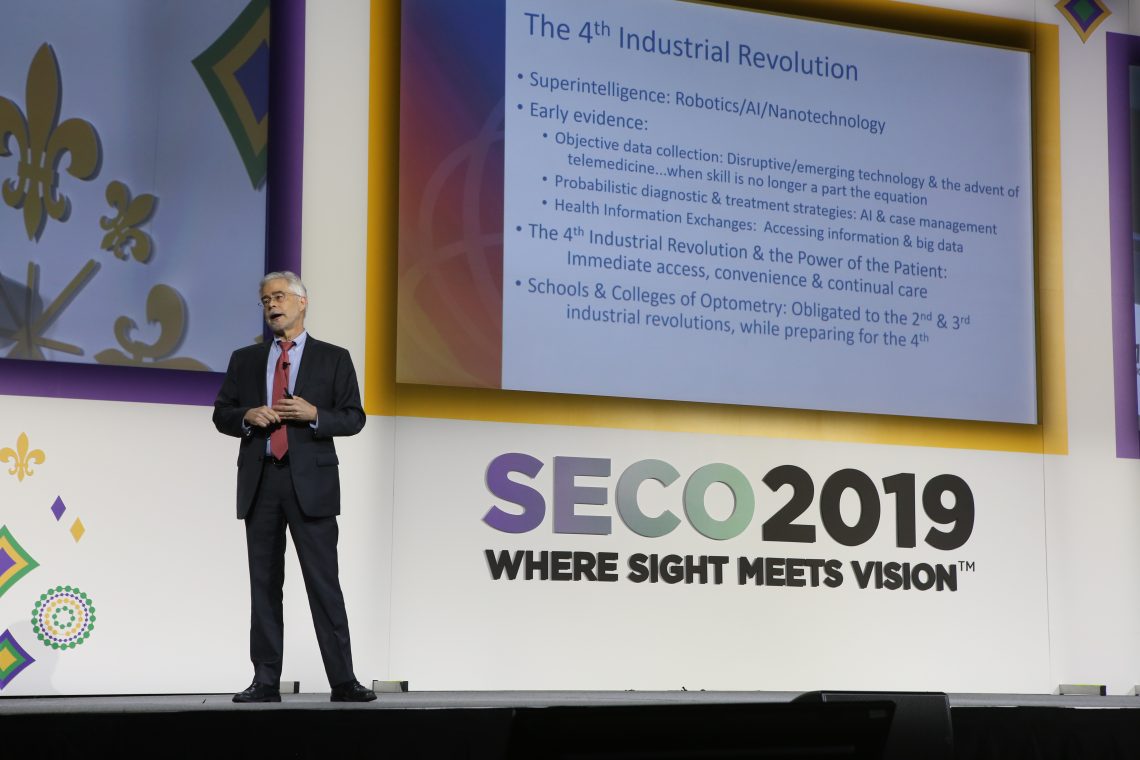 An excerpt from SECO Daily, February 22, 2019
NEW ORLEANS — We are deep within the fourth industrial revolution, according to one of yesterday's special session speakers, David A. Heath, OD, EdM, State University of New York College of Optometry. Superintelligence, private equity opportunities and vast therapeutic updates are all coming to your optometry practice sooner than you might think. Are you ready? Is the profession ready? The forum featured an in-depth discussion to answer those questions.
Join the Revolution
Dr. Heath began the session with a look at how the professional needs of the future are shaping today's education—or should be. Generation Z, those born after 1996, is constantly connected with smartphones and social media, Dr. Heath said, and they expect constant feedback. This makes these students uniquely qualified to care for patients of the future who expect the same kind of communication and convenience such connectivity often provides.
As for schools of optometry themselves, accreditation standards are making it harder than ever for colleges of optometry to stay competitive. New accreditation rules mean at least 80% of the entering students must be licensed to practice optometry or pass all three parts of the NBEO or the equivalent Canadian registration examination—all within six years of initial matriculation.
And while everyone is squabbling about whether there are too many optometry schools, bigger concerns are looming.
"We should be more concerned about maintaining the vitality and quality of our profession," Dr. Heath said. But most of all, "we should be more concerned about understanding and preparing for the future of the health care delivery system and we need to be leaders within the fourth industrial revolution."
Vast changes are hitting OD practices almost daily, and it's going to take energetic practitioners to stay afloat. Connectivity with health information exchanges and big data, expanding and enhancing scope of practice and the advent of telemedicine are just a few advances for which ODs must prepare.
Dr. Heath concluded it is necessary for optometry to prepare clinical practice for this fourth revolution and the influx of superintelligence—and optometric education needs to up its game to properly prepare students for the high-tech road ahead.
Media Contact: Amber E. Hopkins Tingle, 212.938.5607, amber@sunyopt.edu