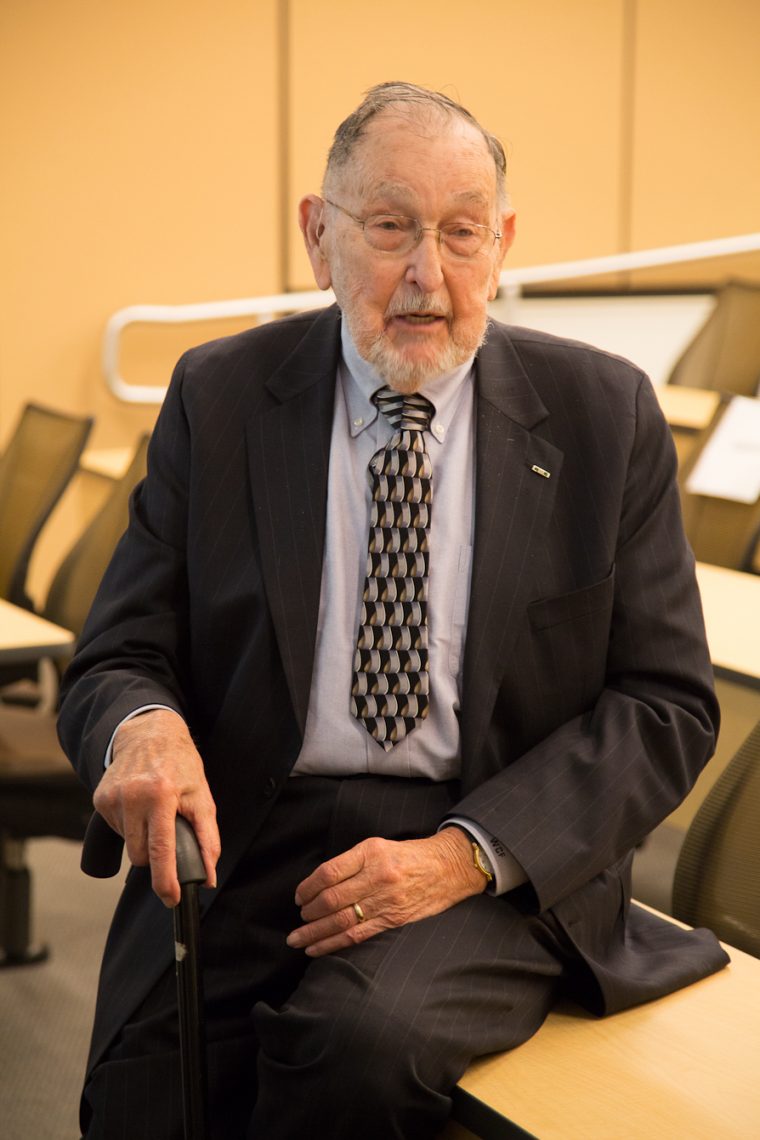 Dr. William "Bill" C. Folsom, Jr., a longtime Optometric Center of New York (OCNY) trustee and former SUNY College of Optometry associate clinical professor, died on Thursday, May 2 in Cape Cod, Mass. He was 98.
Dr. Folsom's association with the College began more than 50 years ago. He was on the staff of the OCNY when it was clinical and educational precursor to the College. When the SUNY College of Optometry was established in 1971 and the OCNY became its affiliated foundation, he served as a member of the board of trustees until his death.
Dr. Folsom was born in Jamaica, Queens on June 17, 1920. He earned his optometry degree from the Massachusetts College of Optometry in 1962, after graduating from Columbia College and the Columbia University Division of Optometry, where he obtained his bachelor of science. He also attended St. John's University's Graduate School of Education and the Columbia University School of Public Health.
In addition to his positions at the College and Bramson ORT Technical Institute, Dr. Folsom served on the attending staff at Arthur C. Logan Memorial Hospital and Hunts Point Multi-Service Center. He also consulted with many companies and organizations, including Blue Cross Blue Shield and the Smithsonian Institute.
Dr. Folsom pledged his estate then valued at $2M to the College in 2010 as part of the College's major gifts campaign, The Vision and the Promise.  His gift will support student scholarships through the Scott T. Folsom Scholarship Fund.  He and his wife, Patricia Fay Folsom, established the fund in recognition of their son following his tragic death at the age of 16 in 1975. "Over the past 20 years, 33 third-year students have received scholarships from the Scott Tasker Folsom Scholarship Endowment," he said during a scholarship presentation in 2010. "I have great pride in helping these talented students as well as my profession."
Dr. Folsom was a fellow of the American Academy of Optometry and the National Academy of Opticianry. He was a member of the American Optometric Association and served as vice president of the New York State Optometric Association. He also received a commendation medal as a sergeant major in the United States Army in 1946.
"I had the good fortune to spend a significant amount of time with Bill and grew to appreciate the remarkable career that he had and greatly admired his depth of commitment to the profession and to our college," SUNY Optometry president David A. Heath said.
"Bill will be deeply missed by his friends at the College and on the board," OCNY board president Barbara Saltzman said. "He set the example for giving back in ways that were both impactful and meaningful. We will always be grateful for his leadership and support."