The volunteer mission improved the lives of both the patients and their vision specialists.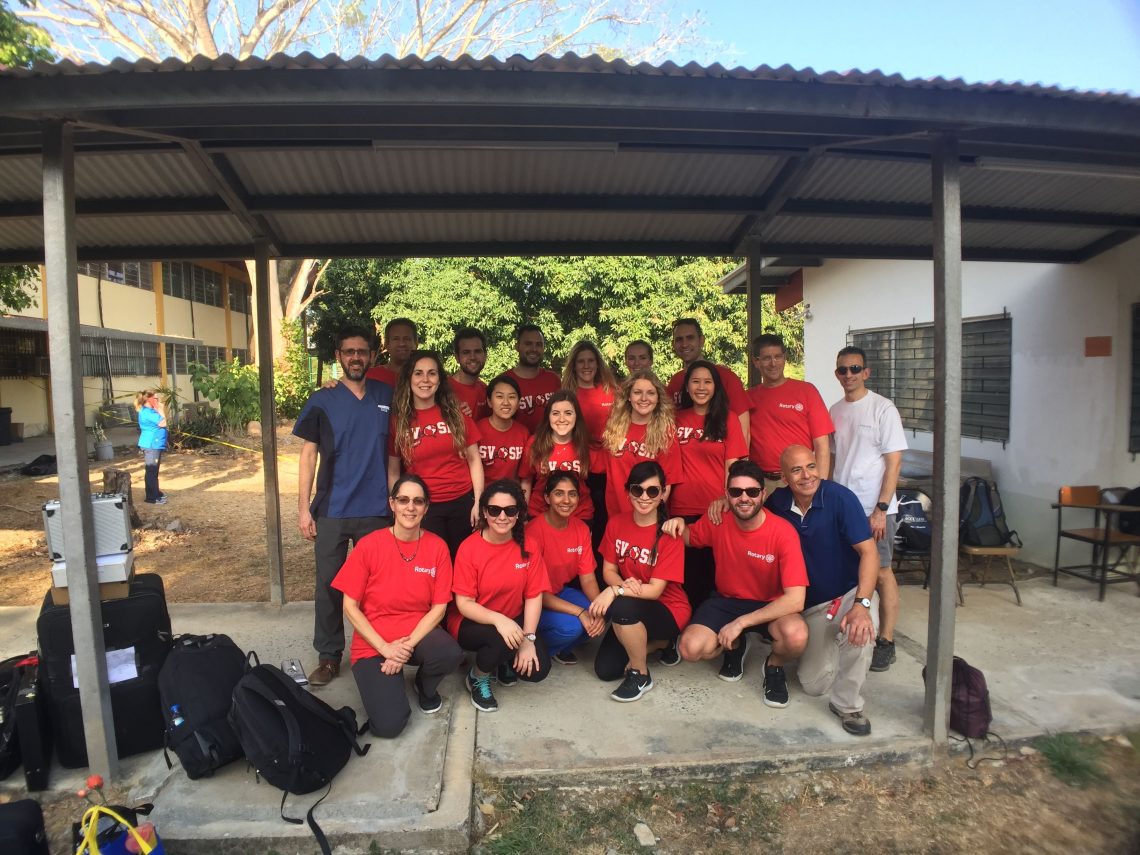 This February, Dr. Carl Sakovits '88 had a once-a-year treat: honey from one of his patients, Rudy, who has been receiving eye care for the past five years from during annual missions organized by Volunteer Optometric Services to Humanity (VOSH).
"I met Rudy five years ago on our first Panama mission to Las Garzas," says Dr. Sakovits, who adds that each reunion begins the same way: "He has traveled up to six hours by bus each year with a fresh jar of honey from his bee hives. We embrace, I examine him, and he still sheds tears of joy and gratitude."
Rudy initially saw the VOSH optometrists because he sustained a blinding, penetrating injury to his left eye. This year, he had pain and decreased vision in his uninjured right eye. "I confirmed my suspicion that he was at risk of losing the sight in his remaining good eye from a condition called sympathetic ophthalmia," says Dr. Sakovits, who spent days calling contacts and connections to get Rudy seen by one of the top ophthalmologists in Panama City. In the end, his patient's sight was saved—and Dr. Sakovits' belief in the necessity of VOSH's work was strengthened.
VOSH launched in 1971. Its mission is to provide quality eye care to people worldwide. SUNY Optometry joined the organization in 1987. Northeast VOSH currently provides care to the needy in Central America and introduces young professionals to volunteerism.
Dr. Sakovits sees the College as a critical driving force behind the chapter's success. "Northeast VOSH's roots are deeply embedded in the SUNY Optometry community and its growth continues to sprout from the College," he says. "Dr. Rocco Robilotto '05 co-leads the organization with me. Dr. Greg DiSanto '84 is the faculty advisor for the SVOSH chapter and one of our board members along with Dr. Anna Lange '15."
This year's mission took place the second week of February and 78 volunteers—professionals from seven different eye care specialties, including eight SUNY Optometry students—went to Penonome, Panama. "It is all word of mouth and we often have more people ready to volunteer then we can take," says Dr. Sakovits. "It is an amazing problem to have and a wonderful statement of the willingness of others to offer their expertise, time and money to help others."
He says the Panamanian government has been cooperative and the organization has the support the Dorado Rotary Club of Panama City.
Stories like Rudy's make it clear how the missions improve patients' lives. But they are not the only ones who leave forever changed. "This work has given me the opportunity to work with some of the kindest and most talented people I have ever met," says Dr. Sakovits. "The secret is that we volunteers benefit just as much as the patients we serve."
Media Contact: Amber E. Hopkins Tingle, 212.938.5607, amber@sunyopt.edu