Scholarship program helps to advance the next generation of aspiring eye doctors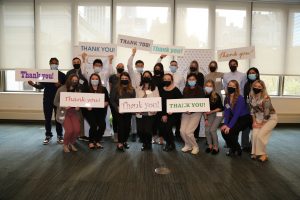 NEW YORK, NY — The SUNY College of Optometry and its foundation, the Optometric Center of New York (OCNY), recognized 42 exceptional current students during the College's annual Scholarship Presentation Program on Friday, November 19.  It is a special day that brings together scholarship recipients and donors to celebrate academic achievement and philanthropy.
Since the scholarship program event was launched over 10 years ago, the OCNY and its donors have established over 20 scholarships and provided nearly $350,000 in awards annually to support deserving SUNY Optometry students on the journey to become doctors.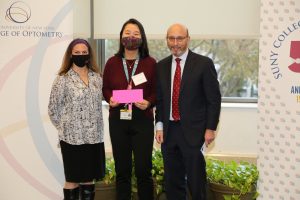 Among the newly established scholarships for students is the Dr. Sandra Goldman- Cohen '82 Memorial Scholarship. A College alumna and private practitioner, Dr. Goldman- Cohen's career in optometry spanned nearly 40 years, focusing on pediatric care and clinical work with various hospitals throughout the New York metro area. Described as highly professional, compassionate, and personable, Dr. Goldman-Cohen passed away in August 2021 following a battle with pancreatic cancer.
"She loved being an optometrist and was an inspiration to others. We know several people who became optometrists because of how she inspired them," said Dr. Goldman-Cohen's brother Richard Goldman. "She was a loving, caring person who was not afraid to put herself out there. She was someone who would buy a sandwich for the homeless or invite a stranger into her home if they needed help. Through this scholarship, she will continue to help people for years to come."
Also new to student scholarship offerings is the Omni Eye Scholarship for Clinical Excellence in Glaucoma Care.  An affiliate clinical training site of the College for over 30 years, Omni Eye Surgery of New York is a unique setting where community optometrists and Omni affiliated ophthalmologists work cooperatively to ensure optimal care for patients.  Founder/ CEO Christopher Quinn, OD, serves as an OCNY board member.
2021 Scholarships and Recipients
Essilor Luxottica Excellence in Optics
Diana Geraghty, Class of 2023
Dr. Nathan and Laura Millman Scholarships
Laura Medina, Class of 2024
Gurleen Klair, Class of 2024
Shaoheng Chen, Class of 2024
Sakshi Vasiu, Class of 2024
Max Herbik, Class of 2024
Barbara Saltzman Scholarship
Christina Canellos, Class of 2025
Fred Friedfeld Memorial Scholarship
Julie Lin, Class of 2022
Milton Scholarships
Brooke Goonetilleke, Class of 2022
Frank Kolami, Class of 2024
Melody Kordnaij, Class of 2022
Grace Ji, Class of 2025
Arturo Vale, Class of 2025
Sakshi Vasiu, Class of 2024
Stephen Murray, Class of 2022
Dr. Harold Solan Memorial Scholarship
Courtney Allen, Class of 2023
Jeff White Memorial Scholarship
Max Herbik, Class of 2024
Omni Eye Scholarship for Clinical Excellence in Glaucoma Care
Andrew Rouse, Class of 2022
Scott Tasker Folsom Scholarships
Dupri Lin, Class of 2023
Tiffany Y. Chen, Class of 2023
Diana Geraghty, Class of 2023
Eden Nourmand, Class of 2023
Dennis and Lesley Gehr Scholarship
Sarah Taj, Class of 2025
Alumni Scholarships
Arden Niedfeld, Class of 2025
Anna Camporese, Class of 2025
Alumni Memorial Scholarship
Anastasia Dakis, Class of 2025
Dr. Jerome Weiss Scholarship
Stephanie Schwartz, Class of 2022
Wilshinsky Scholarship
Samjhana Mandal, Class of 2022
Mary and Samuel Gurkin Memorial Scholarship
Natalie Duider, Class of 2023
Philip and Sylvia Soden Memorial Scholarship
Avalena Linksy, Class of 2023
P. Gregory Hess Scholarship
Howard Ho, Class of 2024
NYSOA Dr. Alden Haffner Scholarships
Gulnoza Azieva, Class of 2023
Jacob Rosenberg, Class of 2023
NJAO Scholarship
Sweta Patel, Class of 2025
Ann Boby Mathews, Class of 2025
The Dr. Sandra Goldman Cohen '82 Memorial Scholarship
Min Kyung Kim, Class of 2022
Dr. Sanford and Claire Levy Scholarships
Mackenzie Reed, Class of 2024
Sarah Walsh, Class of 2024
Elaine Doxtader, Class of 2023
Andrew Rouse, Class of 2022
Natalia Constantine, Class of 2025
Dr. Mark S. Feder Scholarship for Clinical Excellence in Primary Care
Jared Rahn, Class of 2022
For more information about the OCNY or to make a donation in support of SUNY Optometry students, patient care, and research, visit  sunyopt.edu/giving.
November 22, 2021
Organization contact: Adrienne Stoller, communications@sunyopt.edu, 212-938-5600
###
About SUNY Optometry
Founded in 1971 and located in New York City, the State University of New York College of Optometry is a leader in education, research, and patient care, offering the Doctor of Optometry degree as well as MS and PhD degrees in vision science. The College conducts a robust program of basic, translational and clinical research and has 65 affiliated clinical training sites as well as an on-site clinic, the University Eye Center.  SUNY Optometry is regionally accredited by the Commission on Higher Education of the Middle States Association of Colleges and Secondary Schools; its four-year professional degree program and residency programs are accredited by the Accreditation Council on Optometric Education of the American Optometric Association. All classrooms, research facilities and the University Eye Center, which is one of the largest optometric outpatient facilities in the nation, are located on 42nd Street in midtown Manhattan. To learn more about SUNY Optometry, visit www.sunyopt.edu.