7th Innovator Award Winners Develop Creative Solution for Contact Lens Insertion and Removal Aimed to Boost Patient Experience, Autonomy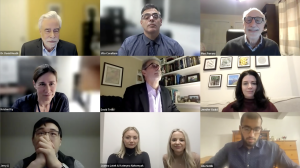 New York, NY—SUNY College of Optometry students, Joanna Latek and Kateryna Nahornyak, both Class of 2024, were named the 2022 Student Innovator Award winners following the College's 7th annual competition held virtually on February 11th. Their winning concept, "Mobile Contact Lens/Eye Drop Insertion and Removal Station" offers an adjustable environment to allow for patients to have comfort and ease when learning the unfamiliar process of inserting contact lenses for the first time.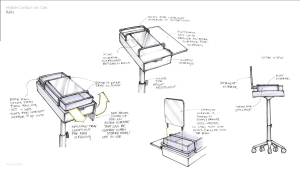 The goal of the station, explained Latek and Nahornyak, is to maximize smoother transitions for both doctors and patients when performing a contact lens insertion and removal. It features a small, mirrored table that is adjustable to the patient's height and a drainage system to collect saline and other solutions. If implemented, it would create shorter exam times and boost patient experience by promoting accessibility and self-efficiency. 
"This is a new and exciting simple solution to a problem that has existed in contact fitting for so long that people often forget it exists" said Latek and Nahornyak. "By allowing the IR station to fit anyway and anywhere the patient needs, it overcomes a critical barrier of dependency and promotes self-efficiency from the start."
Latek and Nahornyak were among three finalists invited to present their ideas at the final phase of this competition which began last fall with abstract submissions evaluated and selected by a professional panel. Fellow student competitors included: Jerry Li Class of 2025, whose abstract explored the possibility of a non-conventional hydrogel-based punctual plug drug delivery system; and Abu Bakker Siddik Class of 2025, who proposed the use of DARC technology to monitor the effects of neuroprotective agents in glaucoma patients. 
All submissions were evaluated according to originality, impact, viability, and feasibility. Serving as panelists for this year's competition were Marc Ferrara, chief executive officer of the information services division of Jobson Medical Information and chairman of the Rick Bay Foundation for Excellence for Eye Care Education; Dr. Ryan Parker, director of professional education for Essilor of America, Inc.; Dr. David Troilo, vice president and dean for academic affairs at SUNY Optometry; Dr. Jennifer Gould, assistant clinical professor, and chief of advanced care services for the University Eye Center; and Dr. Kristen Fry, director of the Clinical Vision Research Center at SUNY Optometry.
Launched at SUNY Optometry in 2015, the Student Innovator Award was developed thanks to a partnership with Essilor and the Rick Bay Foundation to encourage student innovation in optometric education, practice and industry. The competition has expanded over time to include the participation of more than five optometry schools throughout the U.S.
FOR IMMEDIATE RELEASE: February 16, 2022
MEDIA CONTACT:  Dawn Rigney | communications@sunyopt.edu | 212-938-5600
###
About SUNY Optometry
Founded in 1971 and located in New York City, the State University of New York College of Optometry is a leader in education, research, and patient care, offering the Doctor of Optometry degree as well as MS and PhD degrees in vision science. The College conducts a robust program of basic, translational, and clinical research and has 65 affiliated clinical training sites as well as an on-site clinic, the University Eye Center. SUNY Optometry is regionally accredited by the Commission on Higher Education of the Middle States Association of Colleges and Secondary Schools; its four-year professional degree program and residency programs are accredited by the Accreditation Council on Optometric Education of the American Optometric Association. All classrooms, research facilities and the University Eye Center, which is one of the largest optometric outpatient facilities in the nation, are located on 42nd Street in midtown Manhattan. To learn more about SUNY Optometry, visit www.sunyopt.edu.