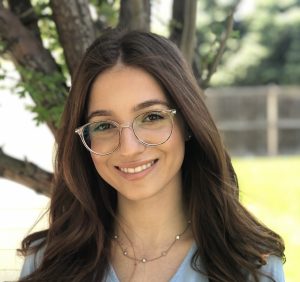 NEW YORK, N.Y. (May 20, 2020) —Before taking the plunge to become an eye doctor, Colorado native Gabrielle Aminova decided to test the waters of the profession by working as an optometric technician. "It inspired and fostered my love for optometry, there is always so much to learn and so much for patients to gain," she said. Her appreciation for sight is evident not only in practice but also throughout her many hobbies and interests, including enjoyment of travel, exploring the outdoors, and capturing those experiences in pottery and painting sceneries. Recipient of the Dr. Louis Herrmann Memorial Award for Outstanding Compassion in Patient Care, Aminova looks forward to applying her education and experience to building relationships with patients from all walks of life and helping them to achieve their best view of the world.
Degree: Doctor of Optometry
Hometown: Denver, Colorado 
Undergraduate Education: University of Colorado Denver, B.S., Biology
What draws you to optometry? 
I love how Optometry has so many niche sub-specialties within itself. You can provide so many services to patients that they may not even know about like vision therapy and rehabilitation, specialty contact lenses, or Low Vision services. 
What is your fondest memory of your time at the College? 
I have several fond memories of my time at SUNY, including studying in Bryant Park or taking a study break to shop in Times Square. It was a unique experience being in the heart of New York City every day.  
How did your classmates shape your experience? 
My classmates truly made all the difference during these past four years. Knowing you have a solid support system gives you the motivation you need to succeed.
What was your favorite course? 
My favorite class was ocular disease. It was really rewarding to learn so much clinically applicable information.
What are your post-graduation plans? 
I am excited to start working in private practice after graduation. I feel that it will allow me to build relationships with patients and grow as an independent clinician.
What advice would you give new students at the College? 
Give yourself time to enjoy the little victories! With every quiz, exam, or clinical competency take the time to reward your hard work and remember that no matter how difficult it seems, it all passes by in a blink of an eye!