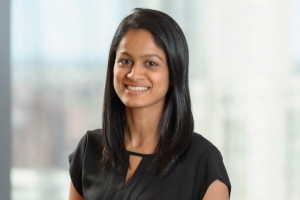 NEW YORK, N.Y. (May 18, 2020) — As a student at SUNY College of Optometry, Sheena Patel enjoyed working with contact lenses in the clinic, learning about them in class and electives, and bringing classmates together for events and workshops as President of CLEAR (Contact Lens Education and Research). Her interest in advancing this area of optometric care led her to receive the Alcon 2020 Case Report Award for her work entitled: 'Impact of Healthy Ocular Surface on Successful Contact Lens Wear in a Patient with Keratoconus and Diabetes.'  The Alcon case report competition involves patient encounters that require unique strategies to achieve successful contact lens wear. "Sharing a patient experience through the Alcon case report was another way to share one of my passions," said Patel.
Based in Ft. Worth, Texas, Alcon is a medical device company with a 73-year history of leadership in the ophthalmic industry. The company supports the optometry schools through the Partner in Education sponsorship program and is intended for faculty, resident, and student development. The goal of the case report is to encourage research, critical thinking, and to promote clinical writing and publication. A panel of independent doctors reviews winning entries. Said Mr. Tom Duchardt, Alcon director of professional relations and academic development, Patel is among 24 fourth-year optometry students across the country to earn this year's Alcon award. "Congratulations to Ms. Patel on her dedication to patient care that has resulted in this recognition."
Degree: Doctor of Optometry
Undergraduate Education:  Cornell University – Policy Analysis and Management (2014)
Hometown:  Brooklyn, NY
What draws you to optometry? 
I considered optometry as a career while frequenting my own optometrist growing up. However, I really delved deeper after college when I shadowed primary care, contact lens, and low vision practices, and began working part time at a Lenscrafters. I was soon drawn to all of the different specialties, being able to diagnose and treat, and the possibility of incorporating medical mission trips, business, or industry into my career.
What is your fondest memory of your time at the College?
My fondest memories were the annual holiday parties. Students from every class year, staff, and faculty would all come together after final exams to celebrate. It was always a carefree, joyful, and fun time.
How did your classmates shape your experience?
My classmates were some of my biggest supporters through Optometry school. No one understands the workload, stressors, and satisfaction of every phase of Optometry school better than they do. I'm thankful to have gone through this journey with them.
What was your favorite course? 
My favorite course was Ocular Disease 2 because it was clinically relevant. I also really enjoyed my personal finance elective with Dr. Steven Schwartz because it is relevant to our futures. 
What are your post-graduation plans?
After graduation I will be completing a residency in ocular disease and primary care at the VA Hudson Valley Healthcare System.
What advice would you give new students at the College?
Work hard and try to figure out where and how you study best early on, but don't forget to take breaks and focus on yourself to recharge!