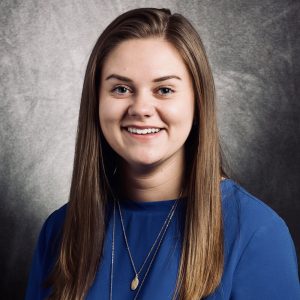 NEW YORK, N.Y. (May 18, 2020) —A Midwestern native with a passion for horseback riding, Abigail Anne Cash's goal is to own a ranch someday. But before Abigail can make that dream a reality, she will ride off into the New York City sunset as a doctor of optometry and recipient of the Dr. William Feinbloom Memorial Award for Excellence for Outstanding Clinical Proficiency in Low Vision.  What does she expect from herself as a newly minted health professional? For Cash, seeking first to understand and treat patients as people is at the core of quality care.
Degree: Doctor of Optometry
Hometown: Madison, WI
Undergraduate Education: University of Wisconsin – Madison; BS Pharmacology and Toxicology (2016)
What draws you to optometry? I became interested in health care after watching my mom finish nursing school to become the remarkable nurse that she is now. A physiology lecture during my third year of undergrad that covered an introduction to the visual system drew me to the eye care industry. I chose to pursue optometry because it offers primary care services with specific regard to one of the most relied upon but ignored organs. Think of all the things you do in a day that require sight that so many of us take for granted! Being able to impact someone's vision and improve day to day life is invaluable and makes optometry special to me.
What is your fondest memory of your time at the College?  The second-year Eye Ball. It was toward the end of a difficult academic year, and one of the most memorable, entertaining days with my SUNY friends. 
How did your classmates shape your experience? My classmates made class, clinic, and social events much more enjoyable.
What was your favorite course? The Ocular Disease course series was my favorite, especially the second course lead by Dr. Kimberley Poirier. 
What are your post-graduation plans? I accepted an Ocular Disease and Low Vision residency position at the Kansas City VA Medical Center in Kansas City, MO.
What advice would you give new students at the College? Mastering didactic material or being awarded academic achievements is valuable and demonstrates you are a good student. But you have to be able to relay what you've learned on a personal level and with compassion to be a wholesome clinician. Don't forget the patient's you treat are people with thoughts and feelings just like you.