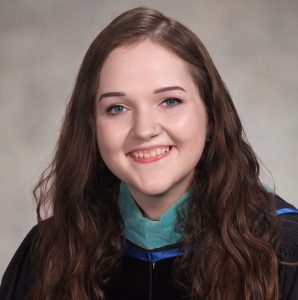 NEW YORK, N.Y. (May 20, 2020) —It was an iconic 1969 novel that first introduced Alicia Jones to the profession of optometry. It was her desire to make a difference in patients' lives, coupled with hard work and perseverance that led her to an OD degree from SUNY Optometry and this year's Columbia Class of 1936 Award for Academic and Clinical Achievement in Ocular Disease.  Most of all, it was the friendships formed with her classmates now optometric peers in practice that will last her a lifetime. 
Degree: Doctor of Optometry
Hometown: Middleburgh, NY
Undergraduate Education: MCPHS University — Pre-Optometry (2016)
What draws you to optometry?
Slaughterhouse-Five by Kurt Vonnegut piqued my interest in optometry; the main character is an optometrist. After that, I shadowed ODs in my area and fell in love with the profession because I saw an opportunity to meaningfully improve a person's quality of life through vision care.
What is your fondest memory of your time at the College? 
Attending the American Academy of Optometry's meeting during my 3rd year and competing in their first-ever student trivia competition.
How did your classmates shape your experience? 
My classmates believed in me when I doubted myself and encouraged me to push myself to achieve more than I thought was possible. They're some of my closest friends.
What was your favorite course? 
My favorite course was ocular disease because of its clinical relevance.
What are your post-graduation plans? 
I will be working at an ophthalmology practice in Brooklyn that specializes in the management of patients with glaucoma and retinal diseases.
What advice would you give new students at the College? 
Never lose sight of your goals, and never tell yourself you can't attain them. Ask for help and offer help to others in return. Say "yes" to as many opportunities as you can.