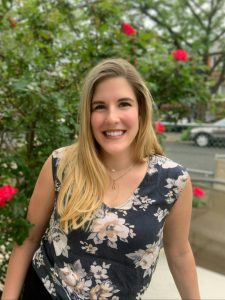 NEW YORK, N.Y. (May 20, 2020) —When she's not caring for patients, Alyssa Fortuna enjoys exercising, baking and planning her next mission trip. She was lucky enough to provide eye care on a mission trip to Panama and looks forward to helping those in need as a new clinician. Recipient of the College of Optometrists in Vision Development Award for Excellence in Vision Training, Fortuna has a special interest in caring for individuals with binocular disorders and head trauma as an optometrist specializing in vision therapy, her dream job.
Degree: Doctor of Optometry
Hometown: Buffalo, New York
Undergraduate Education: University at Buffalo- Biology (2016)
What draws you to optometry?
I was a vision therapist before entering optometry school and was able to experience the way optometrists could make lasting connections with their patients and change their lives for the better.
What is your fondest memory of your time at the College?
My fondest memory of my time at the college was building long-lasting relationships and friendships with fellow classmates.
How did your classmates shape your experience?
My friends made the hard times better and more bearable. They also were there for constant support and many fun times!
What was your favorite course?
Ocular Disease III with Dr. Patricia Modica. She was able to take complicated cases and break them down in ways that could easily lead you to a plan of action.
What are your post-graduation plans?
My post-graduation plans are to open a group practice for vision therapy in Buffalo, New York. I will also be doing primary care examinations at other part-time locations.
What advice would you give new students at the College?
My advice to new students is to not take yourself too seriously. Make sure you work hard but take this time to make lasting connections with friends and classmates.