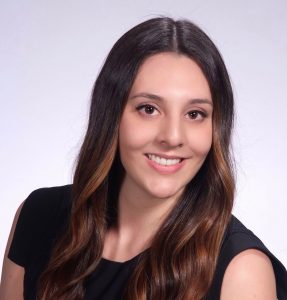 NEW YORK, N.Y. (May 18, 2020) —Long Island native Alyssa Marie Tursi always knew that she wanted to work in the healthcare field. "Originally, I wanted to go into pharmacy, but after working at one in high school, I realized there wasn't enough patient interaction for me." With an eye toward the future, she eventually set her sights on a career in optometry and never looked back.  As this year's recipient of the Class of 1991 PACE SETTER AWARD for Excellence in Primary Care, Tursi highlights the importance of fellowship in optometric training, patient care, practice, and beyond to maintain momentum.
Degree: Doctor of Optometry 
Hometown: Seaford, New York 
Undergraduate Education: University of Rhode Island — Biological Sciences (2015)

What draws you to optometry? 
I love optometry because you can form great patient relationships. It's a field that is really diverse with so many opportunities and specialties to choose from. Our patients are so appreciative and it's a wonderful feeling to make a positive impact in other people's lives. 
What is your fondest memory of your time at the College? 
The yearly Eye Ball and class happy hours are some of my fondest memories. It was nice to see everyone relax and have fun in a stress-free environment. Our white coat ceremony was also one of my favorite memories since it was the first time I felt like a true clinician. 
How did your classmates shape your experience? 
Knowing we were all in this together made it easier to get through the tough times. Everyone in our class was so helpful, and it was motivating to be surrounded by others who all have the same goal. I'm grateful to SUNY College of Optometry for creating lifelong friendships! 
What was your favorite course? 
The ocular disease courses were my favorite. After initially gaining knowledge about the anatomy and physiology of our eyes, it was very interesting to learn about how pathology arises from these structures and ways to treat them. 
What are your post-graduation plans? 
I will be pursuing a primary care/ocular disease residency at the New York Harbor Health VA. After that, I hope to work in either a hospital-based setting or an OD/MD group practice. 
What advice would you give new students at the College? 
Work hard, but don't forget to relax and have fun! Take advantage of all the extracurricular activities and they will turn into some of your favorite memories from optometry school.