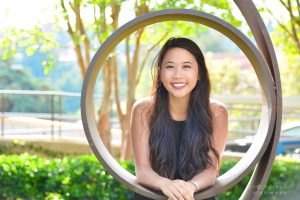 NEW YORK, N.Y. (May 18, 2020) —The journey to become a doctor for Carol Ren Lin started early.  "My mom would say that when she would take my five-year-old autistic brother and me for playtime at the park, I would always let my brother sit in the stroller going there and back, treating him like the dolls I took care of diligently at home."  In college, Lin's natural inclination to nurture others became even more evident in her contributions to clinical studies, community outreach, and frontline care by assisting health professionals of various disciplines. Her undergraduate work earned distinguished honors for leadership and humanism in healthcare as well as acceptance to the SUNY College of Optometry, where she continued her mission to improve quality of care and life for all through research, education, and advocacy. As this year's recipient of the Josh Wallman, PhD Memorial Research Award, the former U.S. international figure skater now clinician talks about helping patients reach their full potential as people.
Degree: Doctor of Optometry/ Masters in Vision Sciences (2020)
Hometown: Saratoga, CA
Undergraduate Education: University of California, Los Angeles (UCLA) – Major: Neuroscience, Minor: French and Linguistics (2016)
What draws you to optometry?
Optometry is a profession that takes care of not only the eyes, but the entire body as well – vision is a sensory system that we often take for granted, but when we are deprived of it, the world as we know it is much different. In volunteering in eye care and seeing patients at the College over the years, I've realized that happiness for me is serving and empowering patients to spark the change they want to see, literally and figuratively, by providing them comprehensive eye care to ensure they can live life to fullest, and make their impact on the world in a positive way.
What is your fondest memory of your time at the College?
So many, it's hard to choose! I loved my time at the College. Notable experiences include going to Panama as a part of SUNY SVOSH (Student Volunteer Optometric Services to Humanity) to provide free eye care to rural Panamanians, along with an interprofessional team of dentists, pharmacists, medical doctors, and more. I also especially enjoyed presenting at the Association for Research in Vision and Ophthalmology – to learn from and be around world-renowned researchers in the eye field whose papers I've poured over. Eye Ball was my favorite social activity, since everyone got to let loose and mingle with classmates and faculty alike.
How did your classmates shape your experience?
We have experienced so many trials and tribulations as a class that I really could not imagine going through it with any other group of wonderful people. Everyone has so much to offer. I will miss and cherish the times we all spent together. Shout out to my amazing roommates (now colleagues) for being my rocks throughout optometry school!
What was your favorite course?  
Ocular disease. It was challenging, but incredibly interesting. The series was taught by very passionate and knowledgeable doctors who developed us into the clinicians we are and will continue to be.
What are your post-graduation plans?
I am very excited to be continuing my education with a residency at SUNY, as a part of the Combined Residency/PhD program. Eventually, I would like to work with the special needs/disabled population in some capacity and use my optometric skills to help this demographic improve their quality of life through improving their vision.
What advice would you give new students at the College?
Be open to and take advantage of new opportunities and experiences. There's a light at the end of the tunnel! Four years will fly by quicker than you think, so pick the brains of your mentors and learn and absorb everything you can. Studying is difficult and stressful in the short term, but it will pay off in the long term when you're in charge and taking care of patients who need your knowledge and expertise!