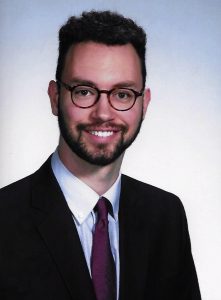 NEW YORK, N.Y. (May 21, 2020) —People and experiences can shape who we are and what we aspire to be and do in life. For David Spengler, it was helping in his grandfather's business of making gravestones. "He taught me the value of hard work. He was the hardest working man I've known." And admiring his dad's impact as a social worker at the New York School for the Blind. "His work with the blind fascinated and inspired me to help those who are vision impaired."  Now a doctor of optometry and recipient of the Optelec Low Vision Award for Excellence in Low Vision, Spengler advises taking the road less traveled to find and exceed your potential.  
Degree: Doctor of Optometry 
Hometown: Lancaster, NY
Undergraduate Education: B.S. in Psychology from SUNY University at Buffalo
What draws you to optometry? 
My desire to bring awareness of ocular health and binocular conditions to the largely unaware public.
What is your fondest memory at the College? 
I was able to help with sports vision eye exams for major league baseball players and prospects.
How did your classmates shape your experience? 
Some of my fondest memories are from exploring NYC with my roommates and other classmates. I formed relationships for life at SUNY College of Optometry.
What was your favorite course? 
Sports vision with Dr. Daniel Laby.
What are your post-graduation plans? 
Vision Therapy and Rehabilitation residency at EyeCare Associates, PC in Southport, Connecticut.
What advice would you give new students at the College? 
Don't be afraid to take your own path. The medical field as a whole is rapidly changing, and the forward thinkers will be the ones who thrive. There are endless opportunities out there if you put in the effort to find them.