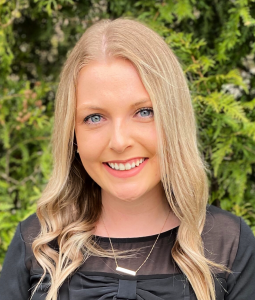 NEW YORK, N.Y. (May 15, 2020) —As an experienced performer and teacher of musical theater, Executive Student Council President Hannah Medwin credits time on stage for the ability to relate easily to her instructors, peers, and patients in optometric practice. "The energy, confidence, and charisma I learned from being involved in the theater community have helped me greatly, especially in being successful with the pediatric population. With kids, the sooner you can get them on your side, the easier it is to work together to improve their lives."  The recipient of the BILLIE M. LYONS MEMORIAL AWARD for Distinguished Service to the College Community and the Good-Lite Award for Excellence in Pediatric Optometry, she shares how involvement is vital to learning how to make connections and communicate with others.
Degree: Doctor of Optometry
Hometown: Amherst, New York
Undergraduate Education: The University of Alabama (Bachelor of Science in Human Environmental Sciences with Honors – Major: Nutritional Sciences, Minor: Biology)
What draws you to optometry? 
I like being an optometrist because I feel my efforts directly improve each patient's quality of life. Not only do I help people see the world more clearly, but I also have the opportunity to make their daily tasks easier and more comfortable, as well as making them feel more fashionable or confident. I feel that optometry is unique because you get to really build relationships with your patients and connect with them on a deeper level than many other medical professions.
What is your fondest memory of your time at the College? 
The Eye Ball was always my favorite event of the year. It was so fun to be able to celebrate with everyone in a fancy and fun setting.
How did your classmates shape your experience? 
You need a solid support system to get through this program. I was lucky enough to connect with some of the most incredible people during my time at SUNY College of Optometry – my classmates, upperclassmen, underclassmen, faculty and staff. These people helped me through every stressful time and were always there to celebrate my successes. I learned a lot during my time at the College, but my greatest take away is the connections and friendships I built along the way.
What was your favorite course? 
My favorite course was Integrative Seminar with Dr. Teresa Lowe. Dr. Lowe is an amazing teacher because she puts emphasis on the importance of treating each patient with the same detail and care you would want a family member to receive. She was able to help me bring together all of the individual concepts I learned in other courses and be able to utilize them in patient care, while always presenting these lessons in a fun and exciting ways.
What are your post-graduation plans?
I have accepted a full-time job as an associate at a full-scope private practice in Buffalo, NY.
What advice would you give new students at the College? 
Be yourself and get to know the people around you. It is so easy to get caught up in the academic side of the College, but having the ability to communicate with all kinds of people will take you farther than any individual fact you'll learn in the classroom. There are so many people involved in making patient care run smoothly, so take the time to show kindness and appreciation to everyone around you — it makes things easier and more enjoyable for everyone involved.