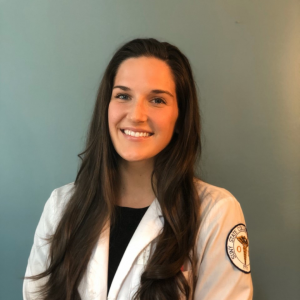 NEW YORK, N.Y. (May 19, 2020) —From a young age, Laura Karle knew that she wanted to work in the healthcare field. Although she pondered many different professions, it was ultimately her hometown eye doctor that showed her the positive impact that an optometrist can make not only for patients in private practice but also for underserved people in places close to home and abroad. While at SUNY Optometry, she developed an interest in ocular disease and immersed herself in diverse clinical experiences that helped to teach her about the disease process, proper treatment, and management. As this year's recipient of the Dr. William M. Eisenberg Memorial Award for Excellence in Ocular Disease Sponsored by Alcon, Karle looks forward to expanding her expertise and outreach efforts in caring for and educating patients to preserve vision and overall quality of life.
Degree: Doctor of Optometry
Hometown: Erie, Pennsylvania
Undergraduate Education: Cleveland State University, Biology major
What draws you to optometry?
What ultimately led me to optometry was Dr. Doug Villela, my optometrist. He not only runs a full-scope private practice but also leads a non-profit called Vision for the Poor, which provides eye care to those in underdeveloped countries. I was able to volunteer in Dr. Villela's clinic in Guatemala between my first and second year at SUNY Optometry. It was an amazing and humbling experience. I plan to contribute my knowledge to organizations like Vision for the Poor, VOSH (Volunteer Optometric Services to Humanity), and others moving forward because everyone deserves assess to proper eye care.
What is your fondest memory of your time at the College?
Looking back, our White Coat Ceremony was a monumental day. Being surrounded by friends and family as we transitioned from the classroom to seeing patients was truly special. I think this day is even more special now given the inability to have our graduation ceremony due to the current health crisis.
How did your classmates shape your experience?
We have an amazing community in our 2020 class. I always felt like we were in it together. Through laughter and tears, we kept each other moving forward. I was super lucky to not only make life-long friends but also meet my future husband, Samuel Stack, also Class of 2020 and an award recipient.
What was your favorite course? 
Although challenging, Ocular Disease 1 helped to develop the clinical thinking strategies that I use each day as I see patients. I find myself referencing the class notes at least weekly if not daily. It was a class that helped me change from thinking like a student to thinking like a doctor.
What are your post-graduation plans?
I am super excited to start a residency at the Erie VAMC in Ocular Disease.
What advice would you give new students at the College?
Enjoy every moment! It goes by so fast. Get involved, don't take yourself too seriously, and work as hard as you can to become the best doctor for your future patients because they are what it's all about!