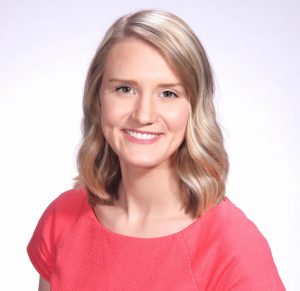 NEW YORK, N.Y. (May 13, 2020) —As a child, Mackenzie Bradley set the bar high for her future. As in, gold medal high. She aspired to be an Olympic gymnast for the 2012 games, but jokingly admits that her athleticism "did not reach a world-class level." Instead of lowering her standards, she set her sights on optometry. Now the winner of the SUNY Chancellor's Award for Student Excellence and vice president of the Class of 2020 shares what leadership, optometry and the power of community mean to her. 
Degree: Doctor of Optometry
Hometown: Ringwood, New Jersey
Undergraduate Education: The University of Connecticut — Molecular and Cell Biology (2016)
What draws you to optometry?
In fifth grade, I told everyone I wanted to be an optometrist because I looked up to my own. She was the only doctor I looked forward to visiting each year, she was always 100 percent up to date on my life, and she truly cared about me as her patient. I aspired to be as smart, composed, and caring as she was. Later, some of things that drew me to the field were the challenging intricacies of the visual system, the ability to use my love of science to care for a community of people, and the opportunity to form long-standing genuine relationships with people as their primary eye care provider.
What is your fondest memory of your time at the College?
On a SVOSH trip to Grenada and Carriacou with a group of SUNY students and doctors from VOSH North Carolina, I helped provide free eye care, ocular medications, sun protection and glasses to over 1,000 under-served locals. It was an incredible and humbling experience to serve children and adults who severely lacked access to simple eye care. 
How did your classmates shape your experience?
We always had each other's backs, acted as a solid source of entertainment for one another and got through it together.
What was your favorite course?
Ocular Disease II helped mold my ability to take care of a patient as a whole being, and it really tied a lot of things together for me. 
What leadership positions did you hold at the College?
I served as the vice president for my class, the secretary for the Gold Key International Optometric Honor Society, the head of the 2019 Eye Ball planning committee, and as one of the student representatives on the OCNY Board of Trustees. My leadership positions were important to me because I believe it is important to engage in the communities you are a part of in life.
What does it mean to you to win this award?
When I entered SUNY, I made it a personal goal to be an active member of the community I was joining. And this award means a lot to me because it recognizes not only the hard work I have put into my academics, but also the dedicated work I have put into my leadership, campus involvement and service to my community. 
What are your post-graduation plans?
I am extremely lucky to be spending another year at SUNY Optometry as one of the Primary Eye Care residents. Upon completion of my residency, I plan to practice in a full scope private practice optometry setting.
What advice would you give new students at the College?
Get comfortable with being uncomfortable! The only way to become a competent clinician is to expose yourself to unfamiliar territories and research your knowledge gaps afterward. Also, approaching everything with confidence goes a long way!