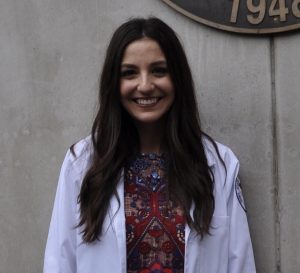 NEW YORK, N.Y. (May 15, 2020) —Natalie Paré has wanted to be an optometrist for as long as she can remember; she credits her excellent childhood optometrists with planting the seed early. The Morton L. Kimmelman Memorial Award for Student Leadership in Organized Optometry winner is excited to start a pediatric residency after graduation, but first, we talked to her about the importance of connecting with classmates and her best advice for new students. 
Degree: Doctor of Optometry (2020)
Hometown: Overland Park, Kansas
Undergraduate Education: University of Alabama — Biology (2016)
What draws you to optometry?
I had a lot of good role models growing up who were optometrists. I saw them as smart, competent medical professionals and dreamed of one day being like them. As I started looking into the profession more and more, I realized that optometry can take you down many paths, and I loved the idea that there were so many different specialties.
What is your fondest memory of your time at the College?
I have absolutely loved and cherished my time at SUNY Optometry. I've met the greatest people and have formed lifelong connections that I know will always be strong. I love the way that our class supports each other and has gotten to know each other over these past four years.
How did your classmates shape your experience?
I think our class has been a pivotal part of my experience at the College. We have a group of very intelligent people who care deeply about their own careers, but also about each other's. They were all supportive and there to lift everyone up as we made our way through this sometimes very challenging journey.
What was your favorite course?
I loved Ocular Disease with Dr. Dul. It was challenging, but so rewarding. Dr. Dul is a great teacher, and I learned so many real-life clinical pearls in that class.
What does it mean to you to win this award?
This graduation award is for leadership in organized optometry. To me, organized optometry is a big part of our responsibility to our profession. It's so important to get involved and support your local and national societies. I hope in the future I will be able to continue doing that at the state level.
What are your post-graduation plans?
I will be doing a pediatric residency. I love working with kids and see this as an opportunity to learn more and perfect my skills in pediatrics.
What advice would you give new students at the College?
My advice would be to put in the effort during optometry school, to take opportunities as they arise and give it your all. You learn the most when you do things that are outside your comfort zone! Don't be afraid to get in there and just try. But then on the flip side, remember that you can't do everything! Knowing yourself and your limits is just as important in order to stay healthy and rested throughout optometry school.